See Why Online Video Sharing Platforms Offer Infinite Marketing Possibilities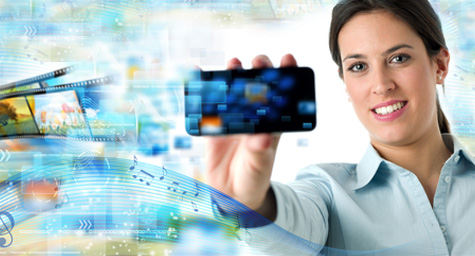 Online video sharing has experienced stellar growth and made marketers from every industry race to get in on this social media phenomenon. YouTube started the video sharing craze, but soon was sharing space with Vimeo, Viddy, Socialcam, and more. Then just as Twitter's Vine achieved mainstream acceptance, Facebook launched Instagram video and Yahoo bought Qwiki to have a sharing site of its own. To show why online video sharing can be so valuable to social media marketers, MediaPost.com recently outlined its many online opportunities.
In only eight years, YouTube has become the largest video sharing platform and has second-biggest search engine in the world. No longer a trend or a novelty, YouTube has become a way of life with users uploading more than 100 hours of videos every single minute. But YouTube is no longer the only platform in town. Twitter's Vine audience has soared to 40 million registered users in only seven months, according to pcmag.com.
It's this enormous reach and exposure that's driving marketers to these online video sharing sites. In addition, the fact that users spend large amounts on these sharing sites and are extremely engaged in the videos they're viewing makes them even more ideal for brands trying to get noticed. No wonder a wide variety of companies from Urban Outfitters to USA Today are trying to integrate video sharing into their creative strategies.
Today's online video sharing platforms offer an abundance of ways to express a marketing message and are valuable for a number of reasons. First, they allow marketers to share content and interact with users looking to engage with others. Plus, the portable nature of content lets marketers share it on many different platforms. Then, consider the massive inventory of video that leads users to linger for longer, along with the self-serve quality of social media that makes for more targeted advertising.
As you can see, online video sharing offers priceless opportunities to marketers and brands trying to catch the eye of the online audience.
Put online video into play for your brand. Contact MDG.
MDG, a full-service advertising agency with offices in Boca Raton and New York, NY, is one of Florida's top creative ad agencies. Our 360° integrated approach uses just the right mix of traditional and digital marketing to reach your advertising goals. MDG's core capabilities include print advertising, branding, logo design, creative, digital marketing, media planning and buying, radio and TV advertising, Web design and development, online video advertising, email marketing, social media marketing, and SEO. To stay on top of the latest trends in YouTube and video advertising, contact MDG. To see why YouTube is now a very powerful and vastly important online video marketing tool, watch MDG's latest video infographic, "Advertisers, You Need YouTube."