Serving Up Burgers With A Side Of Social Media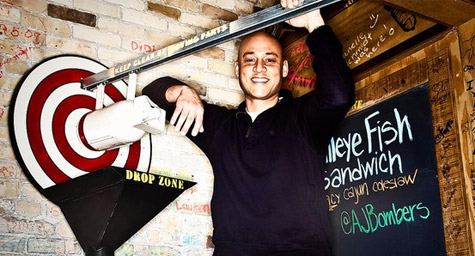 It's rare to see a business rely solely on social media for its advertising, but that's exactly what the Milwaukee burger restaurant, AJ Bombers, has done and done well, according to Business Insider. This advertising approach happened by accident in 2008 when the owner of a small group of restaurants, Joe Sorge, curiously typed in the name of one of his restaurant's into Twitter's search box. Suddenly, a tweet appeared from a woman praising her dining experience at the eatery the previous night. Sorge immediately sent her a thank you tweet, which prompted the woman to reply with even more compliments. When Sorge realized the woman had shared her praise with her 400 followers, he discovered the promotional power of social media and decided that this was the sole way he would market his new burger joint.
After that encounter, Sorge immersed himself in social media, just as he was opening AJ Bombers. Sorge spent many hours communicating online with his customers, responding to every post, comment, tweet, blog and review that mentioned his new burger place.
"A large part of AJ Bombers' success is that our social media customers became brand owners, decision makers," says Sorge. "They were the ones naming our menu items, telling us what hours in the week to be open, what specials they wanted on a particular night…they were involved in everything."
In 2010, Sorge noticed a tweet from a man planning to visit Milwaukee and inquiring about things to do. He quickly responded by suggesting AJ Bombers as a great place for a burger. The two arranged to meet for lunch and the visitor was ironically Chris Brogan, a power-blogger and author of a book on social media. The next day, Brogan posted on his blog about Sorge's adoption of social media for a burger joint and his article catapulted AJ Bombers into the social media spotlight. This led to features by the New York Times, Wall Street Journal, and a triumphant challenge on Travel Channel's Food Wars.
After his experience, Sorge strongly advises small businesses to learn to listen to their customers through social media. He believes that listening, then responding in your own voice, is the key to developing a mutual relationship. Regardless of the business, using social media can improve your relationship with existing customers and increases their frequency of buying.
"Put in the time to make a relationship, says Sorge. "It starts with one. Eventually you'll be able to utilize your network."
MDG, a full-service Florida advertising agency, with offices in Boca Raton and New York, NY, specializes in developing targeted Internet marketing solutions, exceptional creative executions and solid branding and media buying strategies that give clients a competitive advantage.
Our core capabilities include print advertising, branding, logo design , creative, digital marketing, media planning and buying, TV and radio, public relations, Web design and development, email marketing, social media marketing and SEO. To view MDG's portfolio, click here.