Short Film by Target Draws Big Name Talent | Branded Entertainment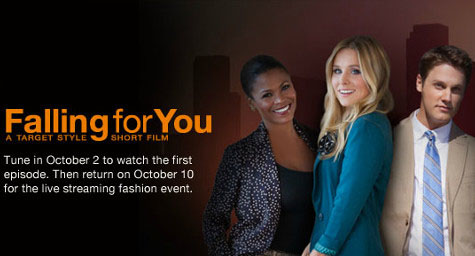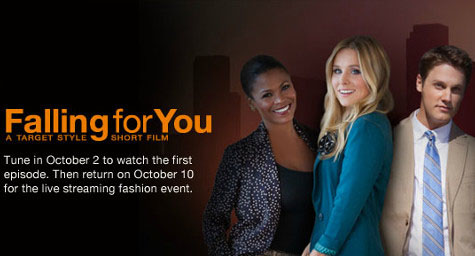 Tomorrow, Target will launch its most ambitious foray into "branded entertainment" with a short film called "Falling for You" that will shine the spotlight on more than 100 items for fall. Featuring an array of products for home, fashion, and beauty, the12-minute long film will be released in three separate episodes with the first premiering on October 2, followed by the next on October 4, and the final installment on October 9. The New York Times reported on how the popular retailer secured some big stars for this short film.
Well-known actors like Kristen Bell, Zachary Abel, and Nia Long joined Emmy-nominated director Phil Abraham for the film about the complicated relationship between a pair of Target employees. The first episode will revolve around the duo's competition to create a marketing campaign for the store's fall merchandise.
Life will imitate art when the winning idea is actually debuted at a live event on October 10. The interactivity will continue as the fall items featured in the film appear along the side of the screen where viewers have the option to instantly purchase the item or share it on their social media pages. While the purpose of the film is to promote the purchase and sharing of the store's new items, these interactive tools were intentionally positioned in the background to allow viewers to concentrate on the storyline.
Branded entertainment differs from other types of advertising because it is much more subtle than traditional product placement. It is also much more engaging because it allows viewers to get involved in a story rather than just having merchandise shown on a screen.
As more and more brands realize the value of branded entertainment, actors are following their lead and discovering this new niche of advertising that keeps them working on screen while simultaneously working for brands.
To learn how creative branding can increase your company's appeal to consumers, contact MDG today at 561-338-7797 or visit www.mdgsolutions.com.
MDG, a full-service Florida advertising firm with offices in Boca Raton and New York, NY, specializes in developing targeted Internet marketing solutions, exceptional creative executions and solid branding and media buying strategies that give clients a competitive advantage. Our core capabilities include brand development, creative, digital marketing, print advertising, media planning and buying, TV and radio, public relations, website design and development, email marketing, social media marketing and SEO.
Read more at Mediadecoder.com.