Shutterstock is Stocking NYC with Photos to Exhibit New Offshoot, Offset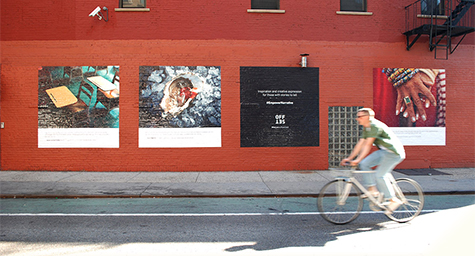 New Yorkers should take stock of the artistic photos popping up all over city walls, not only for their beauty, but also because they're a part of Shutterstock's guerrilla marketing move to promote its premium photography brand, Offset. City-dwellers may be strolling along, and then suddenly stumble upon an outdoor art gallery stocked with traffic-stopping, eye-popping photos on vinyl pieces applied to exterior walls of buildings. These inspiring installations are set to rotate around New York City and pop up at locations completely unannounced. MediaPost.com displayed more of the details to show how this guerilla-marketing move should provide picture-perfect exposure.
Shutterstock is a well-known stock photo clearinghouse, but its high-end segment, Offset, is still new to the stock photography scene. Offset sets itself apart by focusing on more natural-looking photos that tell a story with their scenes. It spotlights inspiring imagery from famous artists and photographers, rather than pictures of posed models.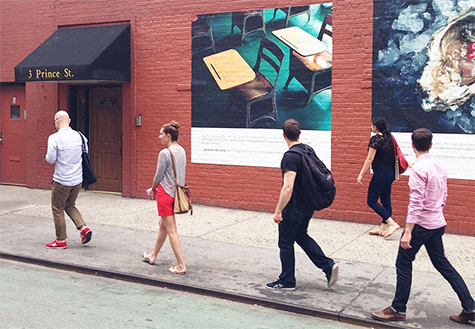 Now, Shutterstock is looking to grow this specialized spinoff by targeting digital agencies, advertising agencies, branding firms, and other businesses that need more poignant pictures.
And the way to make a splash is to suddenly show up on the scene. That's exactly what Shutterstock is doing with this on-the-go gallery. The first and second installations are already on display near the New Museum, with the images set to switch every two weeks until August. Then, the creative caravan is set to move to its next surprise location.
Each photograph features a compelling caption or stirring story to focus on the narrative possibilities that Offset's pictures provide. The copy came from creative minds in design, art, music, publishing, fashion, food, technology, and more to display the range and reach of these images.
Guerilla marketing is more popular than ever and these pop-up promotions have become a pop culture phenomenon. Perhaps it's the element of surprise or the way they build buzz in our social media world, or simply something different from the day-to-day. Regardless of the reason, Shutterstock is using this tactic to make more people look into Offset.
Leverage guerilla marketing to boost your brand. Contact MDG today at 561-338-7797 or visit www.mdgsolutions.com.
MDG is a full-service advertising agency and one of Florida's top branding firms. With offices in Boca Raton and New York City, MDG's core capabilities include creative, branding, logo design, print advertising, digital marketing, mobile marketing, email marketing, media planning and buying, TV and radio, outdoor advertising, newspaper, video marketing, Web design and development, content marketing, lead generation, mobile marketing, social media marketing, and SEO. To discover the latest trends in branding and advertising, contact MDG today at 561-338-7797.