Signature Consultants Selected as "#1 Best Staffing Firm To Temp For" in the U.S.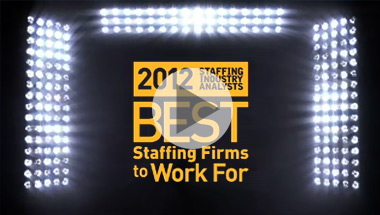 Signature Consultants, a leading IT staffing firm celebrating its 15th year in business, has been voted #1 in the "Best Staffing Firm to Temp for" category in 2012's Best Staffing Firms To Work For competition sponsored by Staffing Industry Analysts and its publication, Staffing Industry Review. The firm's first-place ranking was based on anonymous employee surveys conducted by Quantum Workplace, an independent research firm specializing in employee engagement. This was the first year that temporary employees were eligible to participate in the survey. Along with being selected the winner by its temporary workers, Signature's internal employees also voted the company as "Best Staffing Firm–Over 200 Employees," placing it in the top five in that category.
To promote Signature's prestigious recognition, MDG created this video to announce the extraordinary achievement of winning back-to-back "Best" distinctions.
As the nation's 24th largest staffing firm, Signature Consultants has recently been the recipient of numerous national and regional awards. In 2011, Signature was named the "#1 Best Staffing Firm to Work For in the United States." The Charlotte Business Journal also recognized Signature Consultants as a "Best Place to Work" for four consecutive years, as well as the "Largest Charlotte-Area Technology Consulting Firm."
"We wouldn't be continually voted number one if it weren't for the way our employees and consultants continue to engage, improve, and develop Signature as a company," said COO, Mark Nussbaum. "We truly appreciate our consultants for choosing us as the best."
Established in 1996, Signature Consultants is known for providing clients and consultants with superior IT staffing solutions. Based in Fort Lauderdale, the company operates 16 offices nationwide with 1,300 full-time consultants and staff.
At MDG, our 360° marketing approach uses just the right mix of traditional and online media for your brand. While some industries may fare better on TV and others online, we strive to create a balanced approach to media planning where digital and traditional marketing efforts support each other and your message is tailored to the medium. If you're interested in implementing a digital media strategy that will expose your brand to a new demographic and increase sales, contact MDG today at 561-338-7797 or visit www.mdgsolutions.com.