Skin Care Products Marketing: We've Given A Leader in the Beauty Industry A Virtual Makeover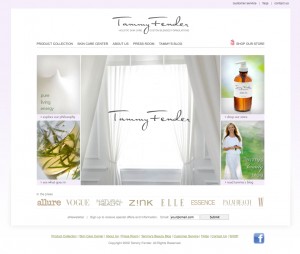 Click image to enlarge.
Simply stunning! That's what people are saying about the beautiful new website we recently launched for Tammy Fender's holistic, custom-blended skin care and beauty products, www.tammyfender.com.
So how did we approach giving this skin care website a fresh, new face? In light of Tammy Fender's organic philosophy rooted in holistic traditions, it was only natural for the team at MDG to design the site with an ethereal look and feel. Throughout the development process, we simply let her pure genius inspire ours:
We re-designed the site with a luminous, airy look to capture the essence of her spiritually-soothing products and evoke the purity of her products' ingredients.
The new Web site features a much improved online store that allows customers to purchase Tammy Fender products and gift certificates, look up product directions and ingredient information and to track all aspects of their order.
Along with the online store, the site features information about Tammy Fender, her products and her philosophy; answers to frequently asked questions; an online beauty blog and a press section updatable by the client through a custom content management system.
As you can see, this new Web site naturally embodies the essence of Tammy Fender's holistic products and works in perfect harmony with the needs of her customers. For a look at the beautiful results, log on to www.tammyfender.com.
Tim Alexander is the director of digital operations for MDG in Boca Raton, Florida, where he provides the strategic and experiential direction for our clients' interactive pursuits. For more information, call 561-338-7797 or log on to www.mdgsolutions.com