Smartphones May Be a Smarter Way to Conduct the 2020 U.S. Census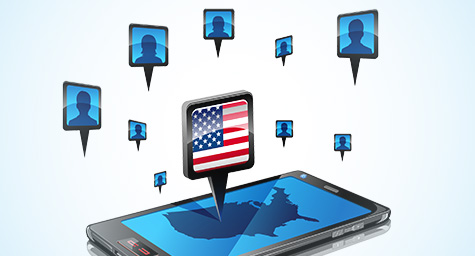 The U.S. government is counting on technology to get more of a response and spend less money on the 2020 census. They've developed new digital tools to let people fill out their census forms online instead of mailing them in. For maximum convenience and response, the forms can be completed on the Internet or a smartphone. In addition to saving the time and the stamp of sending traditional mail, this digital delivery ensures instant collection and analysis. ABCNews.com summed up the story.
The U.S. census is taken once every ten years to figure out congressional maps and decide how the government will spend $400 billion on infrastructure, programs, and services per year.
Yet the return rate of census forms is far from 100%. Only 74% of homes responded in 2010, despite large-scale ad campaigns and extensive outreach efforts. And most of the money spent on the census goes toward getting forms returned.
So now the Census Bureau is testing the tactic of getting the forms filled out online. Census workers in areas of Georgia and Arizona will start asking people to respond online. For those who fail to fill out their forms, these workers will make follow-up visits and input answers into their smartphones to ensure digital delivery.
Plus, a new Internet response system will only make people input their address instead of a lengthy ID number. While this will further ease and speed the process, it will also offer new ways to promote the census by targeting people at specific places and times.
According to the Census Bureau, the nation is ready for digital access. Initial tests of online collection received an exceptional response rate. For follow-up visits in those earlier tests, the census workers used iPhones to input people's data, but Android phones will be used this time to optimize the process.
In addition, the Census Bureau will also test using other electronic records to fill in the gaps on responses.
If the tests are successful, the Census Bureau and citizens will count on smartphones more than ever.
Stay in touch with the latest trends in mobile marketing. Contact MDG.
MDG, a full-service advertising agency with offices in Boca Raton and New York, NY, is one of Florida's top branding firms. MDG's capabilities include print advertising, direct mail marketing, branding, logo design, creative, digital marketing, media buying and planning, radio and TV advertising, Web design and development, online video advertising, infographic development, email marketing, content marketing, lead generation, social media marketing, and SEO. For the latest trends in advertising and branding, contact MDG.