Snack Maker Mondelēz Befriends Facebook as Their Core of Communications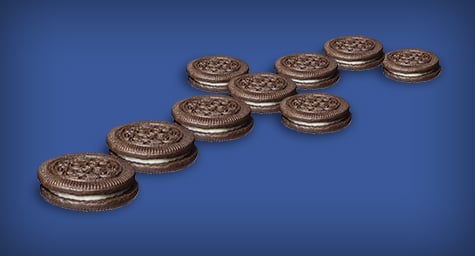 Mondelēz International is sinking its teeth and its media budget into a new deal with Facebook that is placing the social media network at the center of their media investment strategy. More than a traditional media buy, the deal is more like a global strategic partnership that gives the snack maker exclusive opportunities to opt in to Facebook's beta-testing programs and access to immersion days in priority markets. The deal spans 52 countries including the U.S., U.K., France, Brazil, Indonesia, India, and the Gulf States. AdAge.com served up the details of this social media-driven digital marketing deal.
Mondelēz is the owner of some of the world's largest snack brands, such as Oreo and Nabisco. While the company has had great success with traditional advertising, they realize that digital communications have redefined the media landscape and become a major part of much of its market's lives. As a result, the company is increasing its North American mobile and digital spending from approximately one-quarter of its media budget to more than half of its total spending by 2016.
And it looks like the company is making Facebook the heart and soul of its efforts.
"Our recent campaigns with brands like Cadbury Creme Egg, Milka, and Nilla Wafers demonstrated that Facebook can drive business growth, and this made us rethink our media approach," said Bonin Bough, Mondelēz's VP-global media and consumer engagement. "For the first time, we'll be able to incorporate Facebook at the core of our media investment plans. This isn't just about having a social-media strategy; it's about digitizing our entire approach to communications."
While Mondelēz did not disclose financial specifics about the deal, they alluded to its commercial value based on the preferential rates due to their long-term advertising commitment.
This partnership with Facebook highlights the industry's return to a more personal touch in marketing. The irony is that it uses modern digital technology to create a good old-fashioned bond with people. Today, Facebook and other social media sites allow brands to build personal relationships via digital technology for maximum effectiveness and efficiency.
Mondelēz is also spreading into other digital deals, but this new relationship with Facebook is its largest virtual venture and the one that may change the face of mainstream marketing today.
Ready to rethink your media approach? Contact MDG today at 561-338-7797 or visit www.mdgsolutions.com.
MDG is a full-service advertising agency and one of Florida's top branding firms. With offices in Boca Raton and New York City, MDG's core capabilities include branding, logo design, print advertising, digital marketing, mobile advertising, email marketing, media planning and buying, TV and radio, outdoor advertising, newspaper, video marketing, Web design and development, content marketing, social media marketing, and SEO. To discover the latest trends in advertising and branding, contact MDG today at 561-338-7797.