Snap Map: What Marketers Need to Know About Snapchat's New Map Feature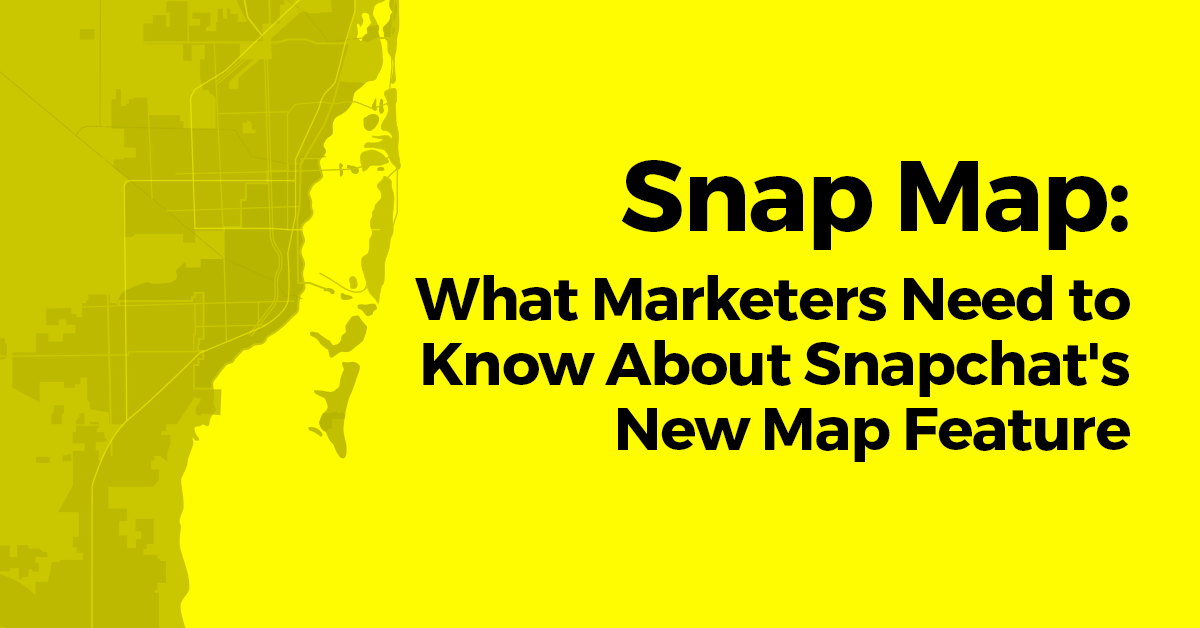 Snapchat is at it again.
The platform that introduced a host of fresh ideas to social networking—including expiring Snaps, fun Lenses, and addictive Stories—recently added another innovative new feature: Snap Map.
The tool, which was unveiled this summer, combines geography with content/friend discovery and was quickly hailed as the foundation of "a powerful location-based ad business" for the company.
So, what exactly is Snap Map? And what opportunities does it present for brands?
Here's what marketers need to know:
What Is Snap Map?
At its simplest, the Snap Map is exactly what it sounds like: it's an option within Snapchat to see content presented via a map interface.
The feature has two core elements (for now): First, users can see friends' locations and see content posted by friends on the map. Second, users can browse the map to see content from both friends and people who aren't friends that's related to popular events/attractions.
Here's how the company describes Snap Map:
"On the Snap Map, you can view Snaps submitted to Our Story from all across the world—including sporting events, celebrations, breaking news, and more. You and your friends can also share your locations with one another, and see what's going on around you!"
And here's a peppy little promo the firm created for the launch:
How Does It Work?
As with many things related to Snapchat, the mechanics of using Snap Map aren't especially intuitive for anyone over the age of 21.
To access the feature you have to go into the Snapchat camera screen and zoom out (not in) until it appears. Once you go through the initial setup options, you'll see a few things presented on the Map:
Stories content from friends
Actionmojis showing where friends were when they last opened Snapchat
Heat maps showing popular locations/events such as concerts and tourist attractions
Content submitted to Our Story about popular locations/events
Still confused? It makes a lot more sense when you see Snap Map in action. Check out this video from YouTuber BMACadelic for a good overview of the feature:
What's Up with the Privacy Concerns?
When Snap Map was released there was an quick outcry (snap judgment?) about privacy issues (one typical headline: "Snap Map Is About To Make Stalking Your Ex So Much Easier, So Get Ready To Lurk").
While these concerns are by no means all unfounded—the feature can indeed be used in some uncomfortable ways—it's also important to realize that Snap Map includes a number of privacy controls.
Specifically:
The feature is opt-in and will not be enabled until the user chooses to do so.
Only publically shared Stories content is posted to the Snap Map.
It's simple to go into "Ghost Mode" and hide your location from being shared.
What's also significant is that Snap Map isn't necessarily introducing new location-based behaviors to the platform. As one of the feature's designers told Refinery29:
"One of the habits we've seen [on Snapchat] with our users is that they'll take a snap where they are, put on the geofilter, and post it to their story with a caption like, 'Hit me up.' They're basically saying, 'Come hang out with me here.' Then, when they leave, there they'll delete that from their story."
In other words, in many ways Snap Map is simply building on what users are already doing on Snapchat.
What's the Opportunity for Marketers?
Okay, so what does this all mean for brands?
The first thing to note is that the current iteration of Snap Map does not include advertising. That means there is not a direct way to pay to appear on the map interface.
However, it's very likely that advertising will be incorporated into Snap Map sooner rather than later. After all, the interface—a combination of real-time updates and geographic awareness—is the perfect vehicle for location-based marketing. It is sure to be a highly effective way for businesses with physical locations to reach consumers with offers and updates.
Every indication is that Snapchat is working to tap into this goldmine. As one analyst told Business Insider: "Snap is gradually building content discovery that should appeal to advertisers looking to target young people at specific times and locations."
While brands wait for advertising to be integrated into Snap Map there are still plenty of organic opportunities. Keep in mind that content—both from friends and from strangers who share to Our Story—appears on the map, as do Actionmoji check-ins. This means that there are a good number of unpaid ways to use the feature to build awareness and distribute information.
What Should Brands Be Doing Now?
So, what should marketers be doing with Snap Map?
To start with, get comfortable with the interface. Snap Map takes some getting used to and it's sure to evolve quickly. By gaining a solid understanding of how it works now, you'l be well prepared to take advantage of its current and future capabilities.
Next, if you have a location-based business and are targeting younger consumers, encourage people to post content to Snapchat when visiting. Each addition to someone's Story from your address can help to organically build awareness and (literally) put you on the map. Also, do your own sharing to the public Our Story. There's no guarantee that you'll appear—it's dependent on Snap's algorithms—but if you do, then it's excellent free exposure.
Finally, keep a close watch on Snap and its competitors. Instagram—which has a history of emulating/stealing Snapchat's ideas—is testing its own Location Stories feature, and it's likely not the only platform that will start pushing further into the space.
Soon the integration of content, geographic information, and advertising could be widespread across multiple social networks. That means a lot of rapid learning for digital marketers, but overall it's great news for location-based brands looking to engage consumers more effectively.
Check out the latest trends in social media marketing. Contact MDG today at 561-338-7797 or visit www.mdgsolutions.com.
MDG, a full-service advertising agency with offices in Boca Raton and New York, NY, is one of Florida's top branding firms. MDG's capabilities include print advertising, direct mail marketing, branding, logo design, creative, media buying and planning, radio and TV advertising, outdoor, newspaper, digital marketing, website design and development, online video advertising, infographic development, email marketing, video marketing, mobile marketing, content marketing, social media marketing, paid search marketing, and SEO. To learn about the latest trends in advertising and branding, contact MDG today at 561-338-7797 or visit www.mdgsolutions.com.