Snapchat Focuses on Adding Advertising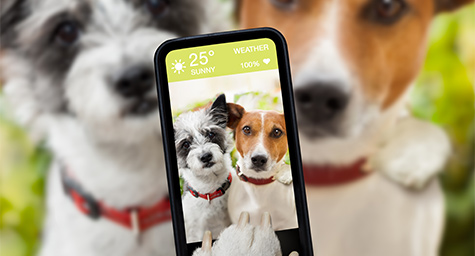 While Snapchat's claim to fame is the way it makes messages disappear in a snap, the photo-messaging service appears to have much more staying power as a result of its openness to expanding its offerings. Its latest evolution takes the app into advertising. This will open up a world of opportunities for marketers by allowing them to reach the app's huge Millennial following and leverage its unique short-term messaging methods to gain long-term results. The Wall Street Journal posted more on why advertisers should be snapping up the chance to share their content on Snapchat.
The app plans to expand its value to videos, news articles, and TV and movie clips so users could easily view this timely content in a limited time frame. While selling space for news and video views would be a profitable proposition, it's the addition of advertising that would deliver a lasting stream of revenue.
While these additions should increase investor interest and revenue, advertisers have even more to gain. Snapchat's 27-million user base is mostly young and tech-savvy Millennials, so now marketers could reach this coveted audience through a format that resonates with them. Marketers could craft their content into short-lived messaging that appeals to users' short attention spans. In addition, Snapchat's unique "disappearing" format would allow advertisers to continually feature the fresh content that these younger users crave.
Snapchat users appear to always be on the app. According to Digiday, users send more than 700 million daily messages and check their accounts an average of 14 times a day. And with more than 50% of users between ages 13 and 17, advertising on Snapchat would allow brands extraordinary access to young consumers.
While this is Snapchat's first official advertising offering, the three-year-old company has been moving in a more marketable direction. Last year, the app launched Snapchat Stories to allow both users and brands to post snaps on the network that could be repeatedly viewed over hours instead of disappearing in seconds.
This allowed for indirect advertising and led major Millennial brands like McDonald's and Taco Bell to start Snapchat accounts of their own. Some brands made deals with celebrities to promote their products, news, and videos on the app under their famous names. And others like GrubHub launched an account last year to reach its millions of college users by encouraging them to post pictures of food they've ordered through the delivery service in return for discounts.
But now that Snapchat is officially extending its momentary messaging to advertisers and news producers, expect everyone to start snapping up these limited-time offerings.
Tap into the latest in social media marketing. Contact MDG.
MDG is a full-service advertising agency and one of Florida's top branding firms. With offices in Boca Raton and New York City, MDG's core capabilities include branding, logo design, print advertising, digital marketing, mobile advertising, email marketing, media planning and buying, TV and radio, outdoor advertising, newspaper, video marketing, Web design and development, content marketing, social media marketing, and SEO. To discover the latest trends in advertising and branding, contact MDG.