Snapchat is Snapping Up the Chance to Get into Native Video Ads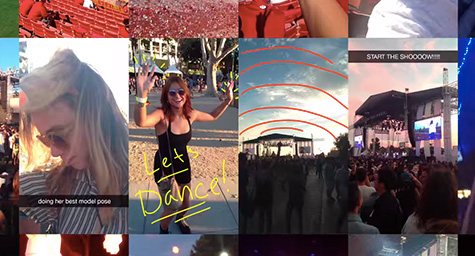 Snapchat may be famed for their disappearing messages, but now the platform appears to be moving into video advertising. The company recently announced their new native video ad product called 3V: Vertical, Video, Views. It's specially designed for mobile to reflect the Snapchat experience. Adweek.com featured more on these video ads that should make it a snap for marketers to target a young audience.
3V ads will take the form of sponsored posts or curated content from user-generated Live Stories. By using these Live Stories, the ads should appeal to the target audience of 13 to 34 year olds.
Snapchat may have fewer than 100 million daily active users, but it has a lot activity. Its users produce an abundance of content, plus a number of social media influencers began appearing last year.
According to the company, Snapchat is the most viral platform today because the brief viewing window drives people to share and discuss its content with friends before it's gone for good. Its disappearing content and exclusively youthful audience make it a prime platform for brands.
This will make 3V ads a smart targeting tool for marketers trying to reach the young market and pique their interest in brands. Snapchat will also offer targeting by age, location, gender, and the Discover Channel.
Snapchat's goal for its advertising is to build ad products that engage their community with compelling full-screen video on mobile, while respecting and protecting their privacy.
Snapchat emphasized that its ad targeting will be to deliver relevant ads and enhance the Snapchat experience for both brands and the users they'll be aiming to reach.
Watch for the latest in video advertising. Contact MDG today at 561-338-7797 or visit www.mdgsolutions.com.
MDG, a full-service advertising agency with offices in Boca Raton and New York, NY, is one of Florida's top branding firms. MDG's capabilities include print advertising, direct mail marketing, branding, logo design, creative, digital marketing, media buying and planning, radio and TV advertising, Web design and development, online video advertising, email marketing, content marketing, social media marketing, and SEO. To learn about the latest trends in advertising and branding, contact MDG today at 561-338-7797 or visit www.mdgsolutions.com.