Snapchat Shows Up for a Showrooming Showdown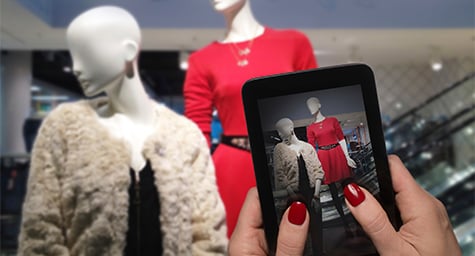 Showrooming is mushrooming in retail today as online apps have made it simple for shoppers to see things they love in a store, but then check online for lower prices and leave the store without buying. Showrooming riles retailers because it costs them so many in-store sales. In fact, it's forcing many to close up shop or open online options to compete with online-only sellers. Yet while online vendors are hurting stores, one online app can help them. Snapchat's popular photo-messaging service has incredible value for retail stores. It can drive more store visits, increase sales, and improve customer engagement. AdAge.com displayed how Snapchat can snap back at showrooming and show it out the door.
Send Out In-Store-Only Offers
Use Snapchat to send snaps of coupons to customers. Since snaps disappear soon after opening, retailers can keep the coupon savings a secret until shoppers are at the register. Convey that snaps should only be opened at the time of purchase. Only then can the customer learn how much they are going to save. These coupons will drive more visits to the store, which will increase in-store sales.
Turn Shopping into the Thrill of the Hunt
Shopping is sport to many, so turn it into a game for them. Use Snapchat to hold a scavenger hunt for highly sought-after items by sending shoppers snaps of clues of where the product is hidden in stores. Then let them loose to search the store to find the actual item. Be sure to send repeated updates to help them track down the product. This will provide a fun experience and generate lots of buzz for the store.
Use Bluetooth to Share Red-Hot Deals
Retailers can blend Beacons and Bluetooth with Snapchat to give shoppers savings on the spot. When a prospect enters the door or a section of the store, their location can be tracked and a snap can be sent to that shopper with a special offer for only that visit. In addition to making in-store shoppers much more willing to spend, the use of clever cross-promotion on other social media platforms can drive others who are online to stop by the store to get the savings.
Boost Buzz for In-Store Arrivals of In-Demand Items
To promote the arrival of anticipated products, send out snaps to customers with news of their debuts. This creates a sense of urgency and greatly increases sales by encouraging shoppers to make unplanned stops to purchase the items in-store.

Let Customers Send Pics to Pick Up Store Coupons
Have shoppers send snaps of their store selections to friends, then send snaps back to each with store coupons. This will promote the brand among their friends and increase in-store sales.
Retailers should try these Snapchat strategies to put an end to showrooming.
Get the latest updates on social media marketing. Contact MDG.
MDG is a full-service advertising agency and one of Florida's top branding firms. With offices in Boca Raton and New York City, MDG's core capabilities include branding, logo design, print advertising, digital marketing, mobile advertising, email marketing, media planning and buying, TV and radio, outdoor advertising, newspaper, video marketing, website design and development, content marketing, social media marketing, and SEO. To discover the latest trends in advertising and branding, contact MDG.