Snapchat's Geo-filters Let Brands Locate More Millennial Engagement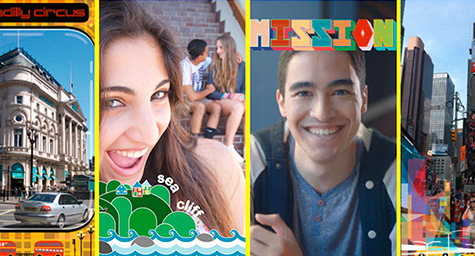 Snapchat has continued to add new and novel features to stay in sync and in style with users. One of its latest and most-loved additions is known as geo-filters. These are location-based tags that users place onto their Snaps to show their location or event they're experiencing. They let users add rich context to Snaps to personalize their pictures even more than before. Geo-filters speak volumes with a short and simple tag, which has made them the new alternative to traditional text-based tagging. To show marketers how geo-filters make content more engaging, Socialmediatoday.com explained why these tags are the talk of the town.
Pinpoint Their Appeal to Millennials
Today, tagging has grown into a huge social media trend with the Millennial market, whether it's tagging locations or simply tagging friends. Millennials love this feature for a variety of reasons.
For one, geo-filters let them distinguish their images and share more of their lives.
Secondly, they let them instantly see what their friends are doing and where their lives have led them.
In addition, they respond to Millennials' fear of missing out by giving them a glimpse of the places and moments they don't want to miss.
Finally, geo-filters give users an air of exclusivity. A location or event can only be tagged when a user is in its boundaries. By enabling a smartphone's location service, Snapchat can immediately identify the location of the user and present the appropriate geo-filters. Only then can the user tag a Snap with that location. As a result, geo-filters give users a sense of superiority because they're one of the fortunate few who has experienced a place or event.
Making Advertising Success a Snap
Advertises are having great success with sponsored geo-filters because they let brands blend in naturally and seamlessly. This content appears more organic and authentic than a marketing message, as well as much less intrusive. As a result, it generates greater engagement with Millennial users who tend to trust the views of their peers more than brands.
But with sponsored geo-filters on Snapchat, brands can avoid this negative perception of ads because they enable their branded content to discreetly flow into the user experience. This makes their Snaps much more apt to interest and engage Millennials.
As geo-filters become a must in the Snapchat experience, expect the app to become even more appealing to advertisers.
The Site of Ad Success
A few months ago, McDonald's was the very first brand to use sponsored Snapchat geo-filters. The company created their geo-filters in a range of subtle styles that users could add onto their Snaps when they were near a McDonald's location. These geo-filters let users customize their Snaps to make them much more personal, which appeals to most Millennials. And each time a Snap with their geo-filters was seen by another user, it served as a form of word-of-mouth advertising, which is more powerful than a targeted ad.
Soon after, Nike also created a sponsored Snapchat geo-filter to celebrate the popular World Cup tournament. This was a smart and savvy move because it reflected a very timely event and Millennials' fear of missing out. Since both Nike and the World Cup are both loved by younger audiences, this pairing was very successful at engaging Millennial users.
These are only two examples of advertisers' success engaging Millennials on Snapchat. With the addition of sponsored geo-filters, more and more Millennials are interacting with branded content. These have helped make Snapchat a powerful way for brands to snap up a younger crowd.
See what's new in social media marketing. Contact MDG today at 561-338-7797 or visit www.mdgsolutions.com.
MDG, a full-service advertising agency with offices in Boca Raton and New York, NY, is one of Florida's top branding firms. MDG's capabilities include print advertising, direct mail marketing, branding, logo design, creative, digital marketing, media buying and planning, radio and TV advertising, Web design and development, online video advertising, email marketing, content marketing, social media marketing, and SEO. To learn about the latest trends in advertising and branding, contact MDG today at 561-338-7797 or visit www.mdgsolutions.com.