Social Commerce: The Hottest Retail Trend of 2019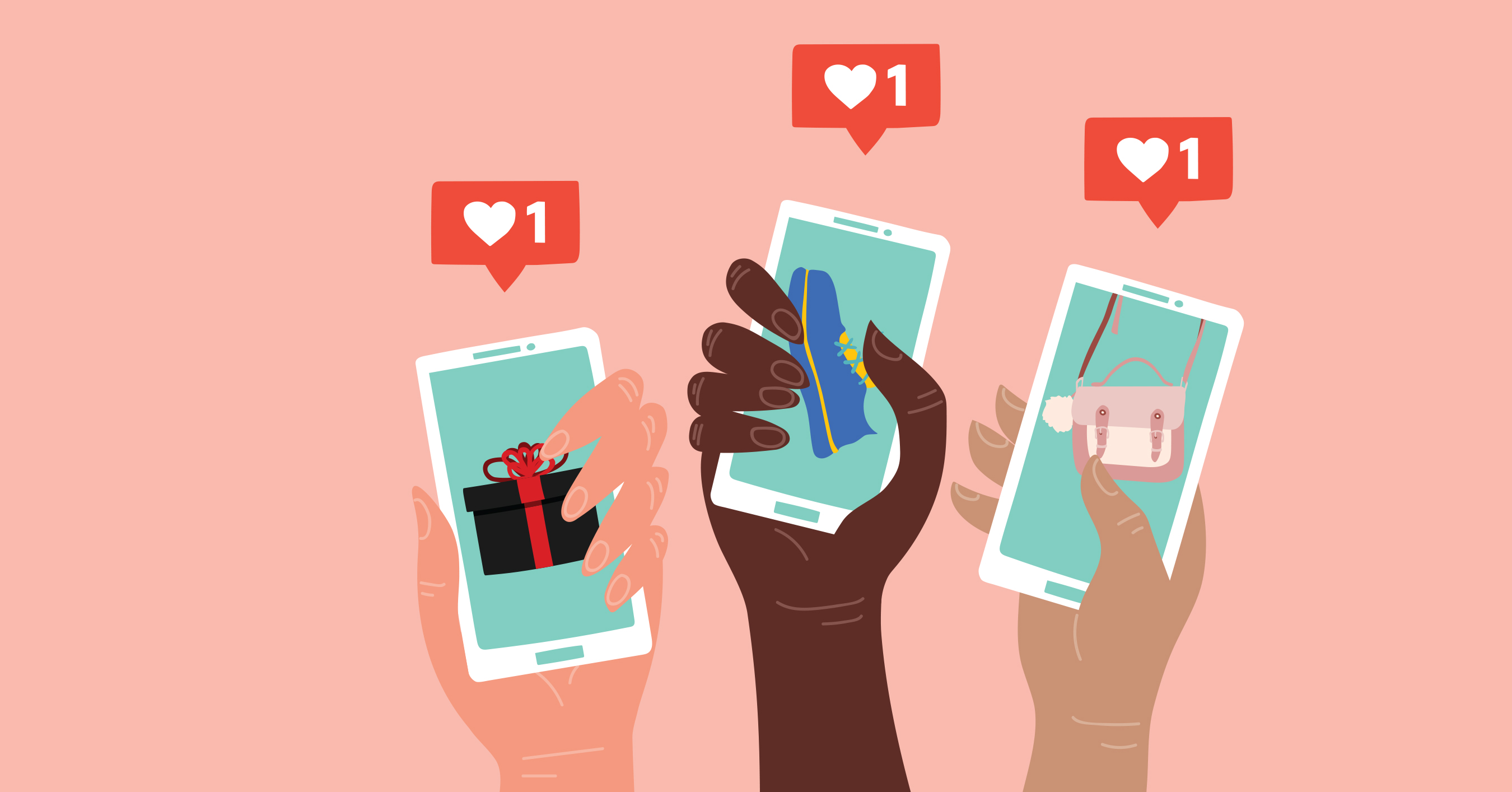 Social commerce—the use of social networks to send traffic to e-commerce sites and, ultimately, drive e-commerce purchases—is having its moment.
Exactly how fast is social commerce growing? Are certain demographics engaging more heavily? Which platforms are best positioned to capitalize on this trend? How is it likely to evolve?
Recently, eMarketer tackled these questions in an in-depth report. As part of their analysis, the researchers looked at data from a wide range of sources and interviewed industry experts.
Here are five key findings from the research that marketers need to know:
How fast is social commerce growing? What share of referral traffic is it responsible for?
Social commerce's growth has been breathtaking over the past couple years.
According to data from Adobe, as cited by eMarketer, social media is the fastest-growing driver of e-commerce referrals: between Q3 2016 and Q3 2018, click-through traffic from social jumped by 110%, while traffic from sources such as referring domains and direct accessing dropped.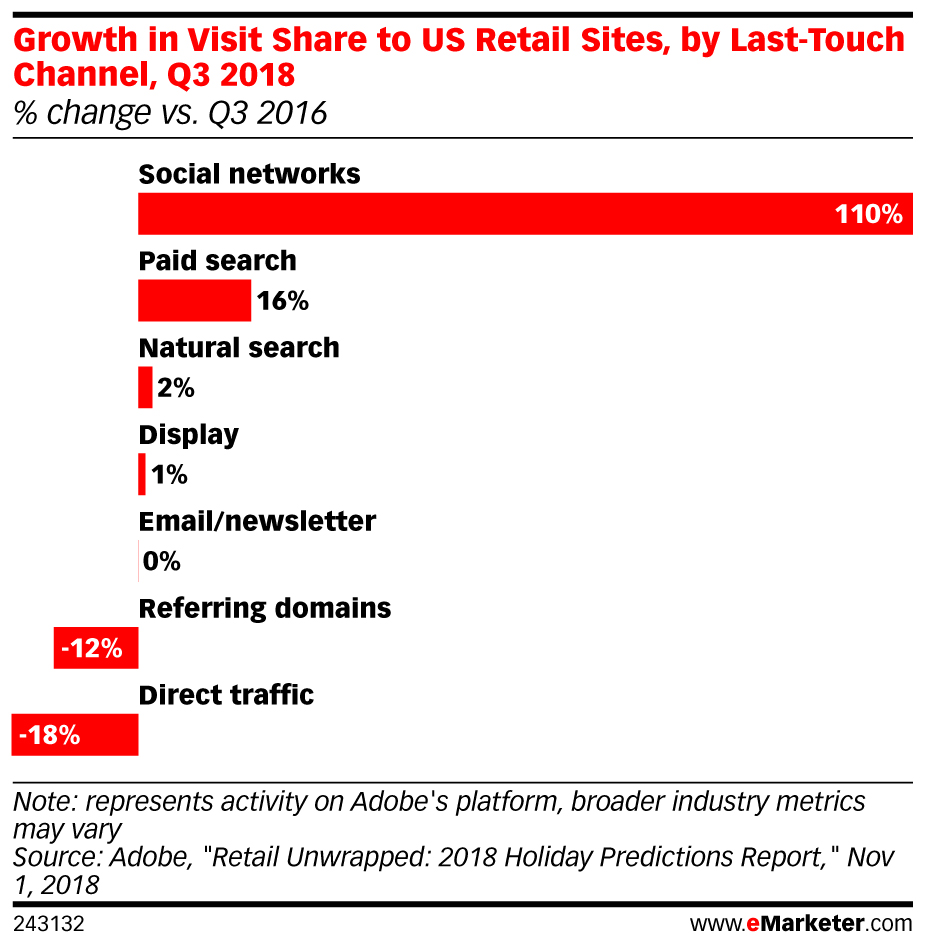 Something to keep in mind is that the share of total referral traffic to e-commerce sites driven by social media is still relatively modest: in Q1 of 2019 it stood at 9.1%.
However, this is nearly a threefold increase from Q1 2016, and the trendline indicates that social is set to become an even more significant driver of referral traffic to e-commerce sites in the coming years.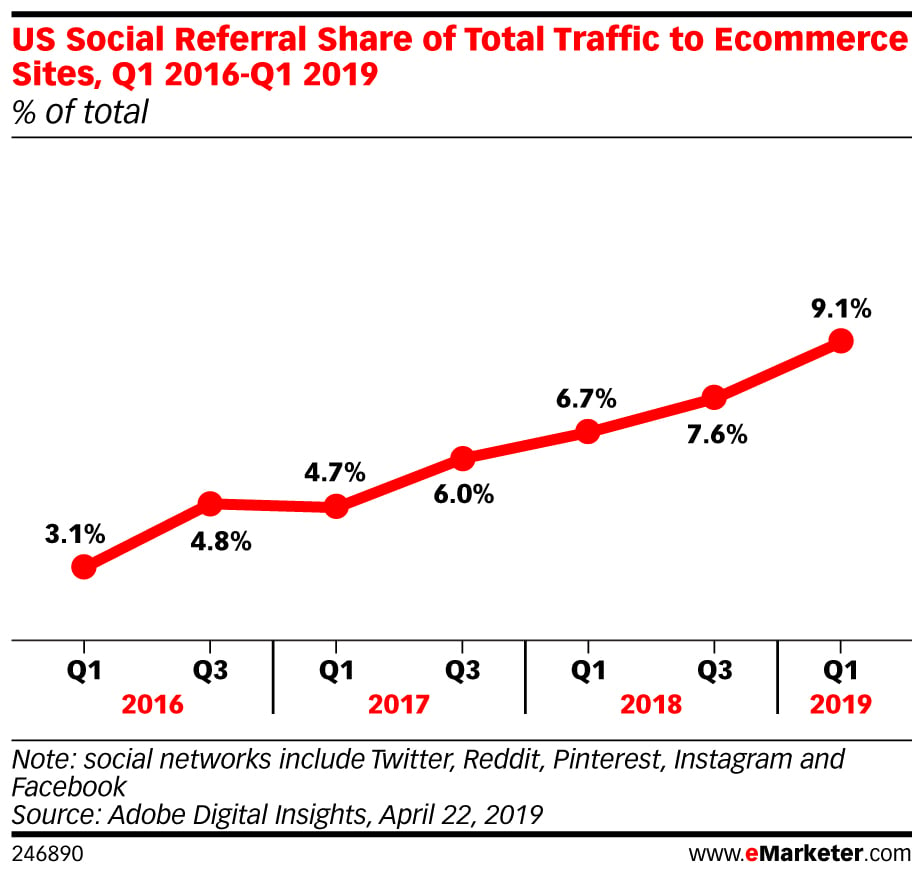 Is referral traffic leading to sales? Which demographics are purchasing via social?
Along with an increase in referrals driven by social to e-commerce sites, the researchers found that more people are purchasing because of what they see on social. In other words, social media appears to be directly driving sales, not just interest.
According to Bizrate Insights data, as cited by eMarketer, the share of US Internet users who bought an item online after seeing it on social media increased from 23% in December 2018 to 29% in April 2019.
Although the share of people engaging in social commerce has increased across all demographics, the groups most likely to make purchases based on what they see on social media are women (36% compared with 22% of men) and younger shoppers (42% of consumers ages 18–34 compared with 15% of consumers age 55+).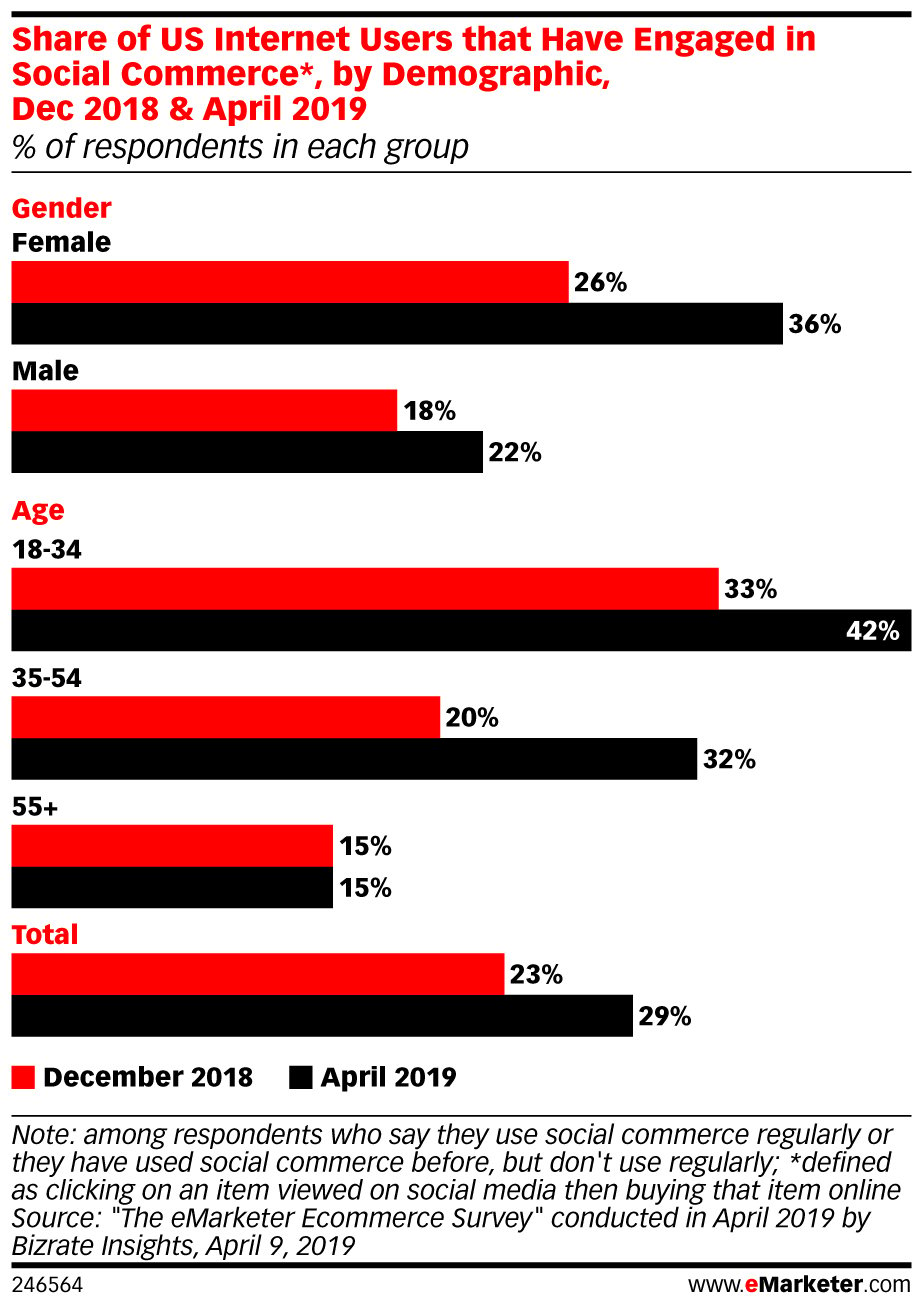 Which platforms are best positioned to capitalize on the growth of social commerce?
When it comes to which networks drive the most referral traffic to e-commerce sites, Facebook is the king of the hill—by far.
According to Adobe data, as cited by eMarketer, Facebook drove 80% of all US social referrals to retail sites in Q1 2019. Facebook-owned Instagram ranked a distant second (11% of social referrals to retail sites) and Pinterest ranked third (8%).
However, although Facebook is the biggest driver of referrals to e-commerce sites, it's not the social network consumers identify most strongly with shopping. That honor goes to Pinterest: some 47% of US social media users say they use the platform to shop for/find products, compared with 15% who use Facebook to do the same.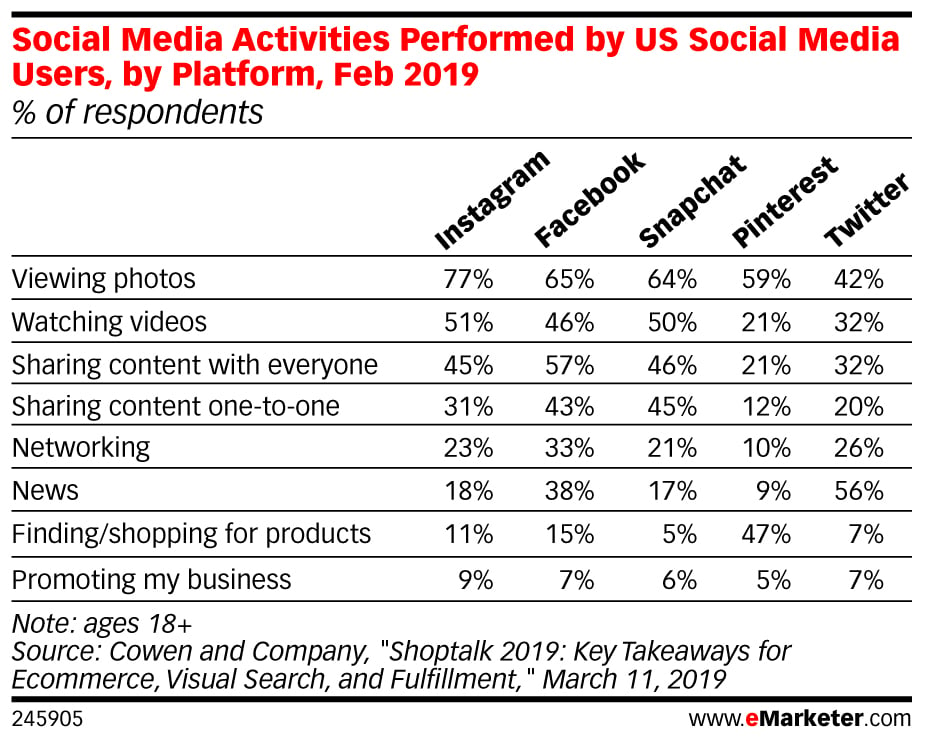 How is social commerce likely to evolve?
The next big step in social commerce is likely to be the shift from purchasing on e-commerce sites to purchasing directly on social networks themselves.
This approach has advantages for everyone: consumers don't have to click out to another site/app, brands see higher conversion rates thanks to easier purchasing, and social networks get additional revenue from fees.
 Part of the reason that the shift hasn't happened already is infrastructure issues. Until recently, social networks hadn't provided retailers with the necessary tools—like buy buttons across content types and sophisticated checkout options—to enable good on-platform shopping experiences.
While that's now changed, there remains an additional hurdle: consumers' discomfort with buying on social networks.
Specifically, many shoppers remain wary about security and privacy. According to Sumo Heavy data, as cited by eMarketer, 71% of US Internet users say they have security concerns (worries about how credit card numbers, banking information, etc., are protected) when it comes to making purchases through social media and 65% have privacy concerns (worries about personal information being shared, etc.).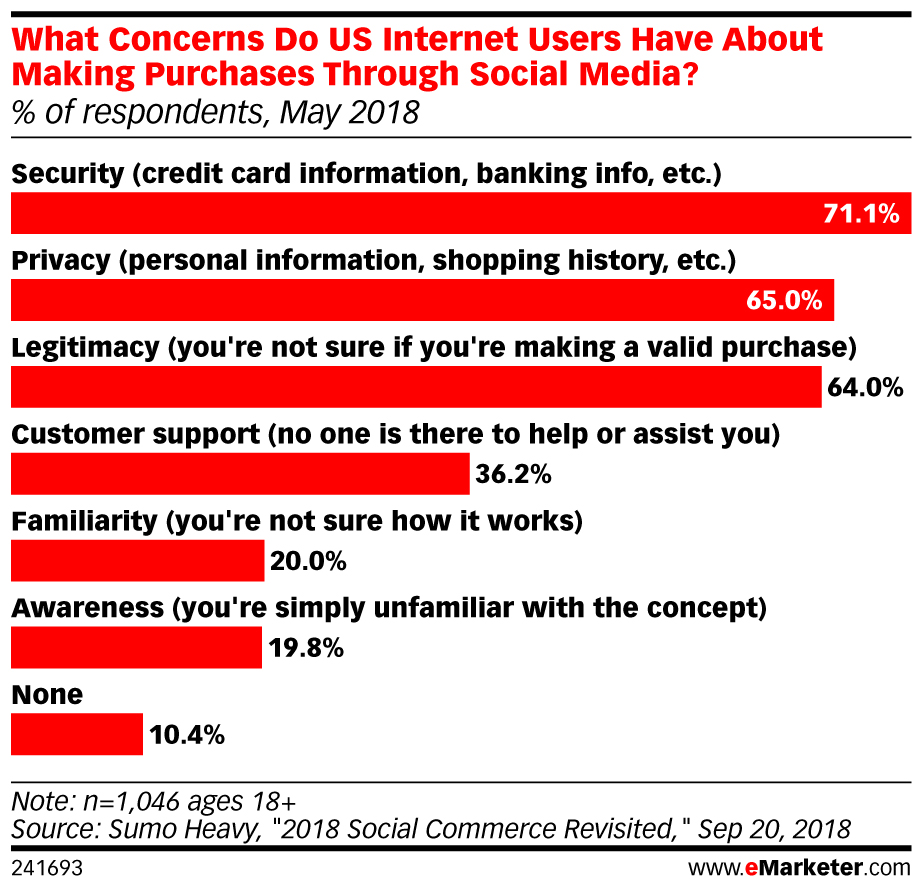 What should marketers make of all this?
The big takeaway is that social commerce is already a key channel for powering referral traffic and that it's likely to grow in importance in the near future. In particular, social media's role in directly driving purchases should accelerate as the networks add increasingly more sophisticated features and targeting options.
That said, brands should keep in mind that the behavior of buying based on social content and advertising is relatively new. Many consumers are still getting used to taking the final step—actually making a purchase—and this hesitation should be addressed whenever possible. By easing people's fears about security and purchasing, you can establish not just your brand, but also the entire approach as being trustworthy.
Ultimately, social commerce presents a powerful opportunity. By recognizing social media's potential to drive referral traffic and purchases, brands can allocate their lower-funnel spend more efficiently and increase the effectiveness of their marketing efforts across the board.
Learn more about the power of social commerce. Contact MDG today at 561-338-7797 or visit www.mdgsolutions.com.
 MDG, a full-service advertising agency with offices in Boca Raton and Brooklyn, NY, is one of Florida's top branding firms. MDG's capabilities include branding, logo design, creative, print advertising, direct mail marketing, media buying and planning, radio and TV advertising, outdoor, newspaper, digital marketing, website design and development, online video advertising, infographic development, email marketing, video marketing, mobile marketing, content marketing, social media marketing, paid search marketing, and SEO. To learn about the latest trends in advertising and branding, contact MDG today at 561-338-7797 or visit www.mdgsolutions.com.