5 Top Tips for Social Media Marketing Spending This Holiday Season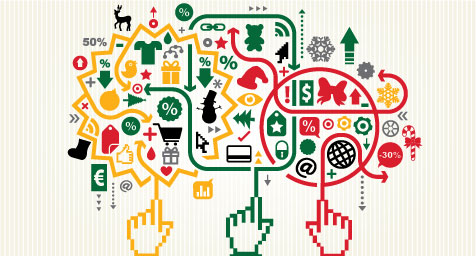 As consumers ramp up for holiday shopping, a lot of retailers are looking for bargains, too. But the question of where to put your money has grown more complicated, as new marketing channels and social media networks clutter the scene. Socialmedia today recently shared some insights on how to gain the most impact for your holiday marketing budget without wasting precious dollars.
Here are five tips for retailers who want to spend on social media marketing, but aren't sure where to put their money.
1. Give social media a bigger slice. During the 2012 holiday season, 40% of retail marketers increased their social media spend over the previous season. You can expect that number to grow even larger this season, especially for SMB and ecommerce brands that typically dedicate more of their budgets to digital content.
2. Focus on Facebook. Facebook was the hands-down winner in last season's social media marketing battle, as 99% of retailers said they'd focus on the social media giant. In comparison, 50% planned to spend on Twitter, and only 20% on Pinterest. This trend suggests that Facebook will likely take the lion's share again this holiday season. But expect to see other social media networks gain ground.
3. Experiment with something new. While it's always a good idea to invest in those social media channels that have historically performed well for you, don't be afraid to experiment a bit, too. Allocate 10–20% of your budget for something completely new. The holiday season is one of the most likely times of the year to see those experiments succeed.
4 Don't limit your efforts to offers. Typically, 81% of retailers use Facebook to inform shoppers about special holiday deals. Free shipping holds the number one spot as the most popular holiday promotion, offered by 9 out of 10 retailers. Although there's nothing wrong with using social media to promote offers, retailers shouldn't limit social media efforts to offers only.
According to Socialmedia today's research, 90% of shoppers are more likely to consider a brand for holiday purchasing after following it online. So use social media to attract and engage consumers even before the shopping begins. Contests and sweepstakes can be an effective way to gain their attention.
5. Pace spending for the greatest impact. Given that 43% of consumers started their holiday shopping around Halloween last year, you need to start your social media efforts early. But it's not a simple matter of starting and ending your efforts sooner. For the greatest impact, you'll need to pace your social media spending efforts throughout the holiday season.
Although it makes sense to spend around Black Friday and Cyber Monday, you'll want to reserve some of your budget for late shoppers, too. Last year, spending on e-commerce during the week of December 10th topped $1 billion, according to Comscore. And last-minute shoppers tend to keep going right up until Christmas Day. For best results, you'll need to stretch your marketing budget over the entire holiday season.
If you'd like to learn more about effective strategies for spending your social media budget this holiday season, contact MDGtoday at 561-338-7797 or visit www.mdgsolutions.com.
MDG is a full-service advertising agency and one of Florida's top creative ad agencies. With offices in Boca Raton, FL and New York, NY, MDG's core capabilities include branding, logo design, digital marketing, print advertising, mobile marketing, email marketing, media planning and buying, TV and radio, outdoor, newspaper, video marketing, Web design and development, content marketing, social media marketing, and SEO. To stay on top of the latest trends in marketing and advertising, contact MDG today at 561-338-7797.
For more about last year's trends in holiday shopping, view our video infographic,"MDG Presents Another Look at Holiday Trends Marketer's Can't Ignore.".