Social Media Reviews Rate High in Consumer Trust [Infographic]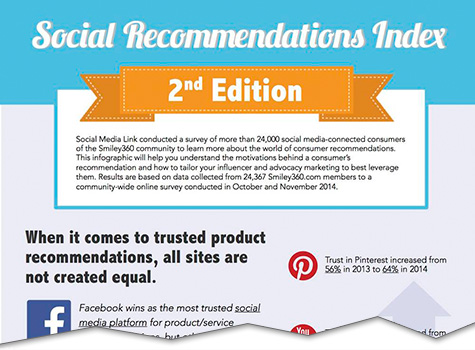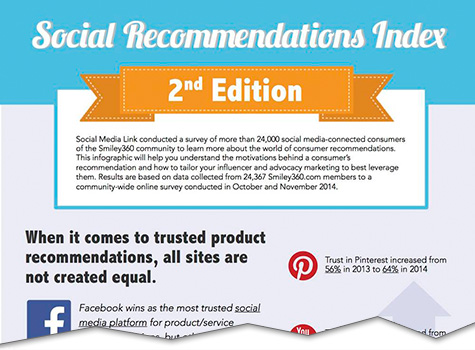 Trust is a must in social media because people are sharing and showing private aspects of their lives. When this sharing extends to shopping, consumers need to trust that these social media product reviews are reliable and responsible. Today, social media is viewed as truthful, according to the Social Recommendation Index released by Social Media Link. It showed how social media recommendations have scored the trust of shoppers. These results were revealed in an infographic, which was recently posted by Adweek.com. And while Facebook was deemed the most trusted forum by 71% of respondents, the other social media networks are rapidly gaining approval. For a look at how consumers place their trust in social media, see what was shared in the infographic.
[jump]
Social Media Range of Reliability
According to the Index, respondents trusted different sites to different extents for product recommendations:
71% had faith in Facebook
67% relied on retail sites
64% pinned trust on Pinterest
 Approximately 60% believed in blogs, YouTube, and manufacturer websites
Primary Purchase Persuasion
Social media product reviews from certain social contacts were perceived as more persuasive:
77% of respondents trusted online reviews from family and close friends
53% were sold on reviews from professional connections
37% believed bloggers and acquaintances
Reasons for Review
Respondents chose to submit social media reviews for many different reasons, such as:
93% for a positive brand experience
79% after receiving a free sample
71% after a negative experience
About 65% to share a coupon or helpful advice with others
The Influence of Insight
The type and tone of recommendations can affect their effect on audiences:
 83% of respondents said that personal stories were most impactful
77% would be persuaded to purchase after viewing 10 positive social media reviews
74% value a list of pros and cons
62% are swayed by star ratings
As you can see, consumers have built a bond with social media, and now they've built a trust for it.

Infographic by SocialMediaLink.
See how social media can build trust in your brand. Contact MDG today at 561-338-7797 or visit www.mdgsolutions.com.
MDG, a full-service advertising agency with offices in Boca Raton and New York, NY, is one of Florida's top branding firms. MDG's capabilities include print advertising, direct mail marketing, branding, logo design, creative, digital marketing, media buying and planning, radio and TV advertising, Web design and development, online video advertising, infographic development, email marketing, mobile marketing, content marketing, social media marketing, paid search marketing, and SEO. To learn about the latest trends in advertising and branding, contact MDG today at 561-338-7797 or visit www.mdgsolutions.com.