Social Media Video Advertising: 5 Trends Every Marketer Needs to Know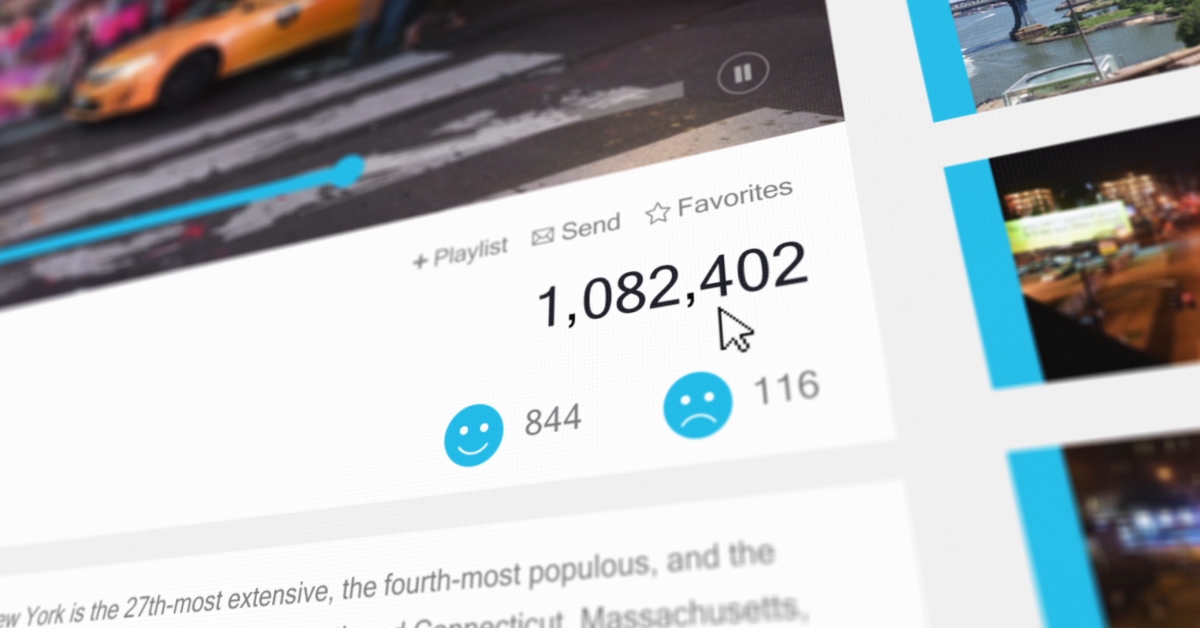 To say that social media video advertising is hot right now would be a major understatement.
The approach sits in the middle of a perfect storm of three huge digital trends—the rapid rise of online advertising, social networks, and video content—and is deservedly receiving extensive attention from advertisers, media buyers, and publishers.
What's the scale of this interest? What's driving the explosive growth of social video advertising? Which networks are receiving the most spend? How are consumers reacting to these new ad formats?
eMarketer recently released an in-depth report covering the latest research on the subject. Here are some of the major findings from the analysis:
1. The Digital Video Ad Market Overall Is Huge, Growing, and Mobile-Driven
To start with, it's important to realize that the rise of social media video advertising is part of a shift toward digital video in general.
While this trend can be seen across all age groups, it's especially pronounced with younger consumers.
According to eMarketer forecasts, some 96% of US Internet users ages 12–17 and 97% ages 18–24 will watch digital video at least once per month this year.
The widespread viewing of digital video is also linked closely to the rise of smartphones.
The constant presence of always-connected digital devices has made digital video consumption remarkably easy. Zenith research cited by eMarketer forecasts that mobile video viewing will jump by 35% this year, and that by 2019 some 72% of online video viewing will take place on a mobile device.
Not surprisingly, ad dollars have started to shift with media habits.
Marketers have realized that consumers are flocking to digital video, and they are are increasingly spending accordingly.
The eMarketer researchers forecast that US digital video ad spending—excluding social platforms—will reach $13.2 billion this year, up 24% from 2016. By 2021, spending is forecast to reach $22.2 billion.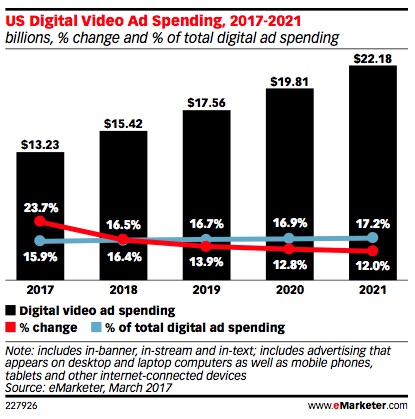 2. Social Networks Are Now Huge Platforms for Delivering Video Content
In 2016, Mark Zuckerberg, the chairman and CEO of Facebook, declared: "Most of the content 10 years ago was text, and then photos, and now it's quickly becoming videos…we're going to be in a world a few years from now where the vast majority of the content that people consume online will be video."
His words have proven to be prescient.
Consumers have indeed flocked to digital video and, in tandem, all of the major social networks have evolved into video delivery engines.
This shift has occurred in different ways on different platforms—each has embraced unique formats and media mixes—but the overall trend is toward more and more video appearing within the experiences.
Audiences have both driven this move and widely embraced it. According to a UBS Evidence Lab survey cited by eMarketer, some 72% of Facebook users now watch video on the platform; 84% of Snapchat users watch video; 76% of Instagram users watch video; and 69% of Twitter users watch video.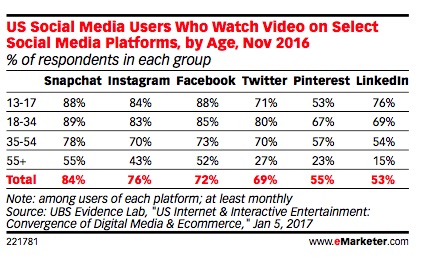 3. Facebook and YouTube Dominate Today, But Other Platforms Are Worth Watching
So, which social networks are seeing the biggest success with video?
Currently, the two major players are YouTube and Facebook. A Jacobs Media study cited by eMarketer found that 67% of monthly digital video viewers now watch video on Facebook and 65% watch video on YouTube.
The research found that there are some significant demographic differences in viewing habits, with Facebook being especially important for older video audiences and YouTube being especially important for Gen Z viewers.
While these two networks dominate at present, things are changing rapidly. Instagram, which embraced video early, is quickly building an audience to rival parent company Facebook. Also, as can be seen with its 2016 Thursday Night Football deal, and this year's agreement to stream official NFL video and other content to fans year-round, Twitter is investing heavily in the medium.
One platform that's worth watching in particular is Snapchat.
This is in part because the network is hugely popular with younger, video-loving consumers.
According to Snapchat data, three-quarters of daily video viewers on the platform are between the ages of 13 and 24.
This youthful audience is driving the rapid growth of a number of shows on Snapchat, such as "The Voice on Snapchat" (+45% increase in viewership this year) and "Good Luck America" (+53% viewership).
In addition to demographics, the success of video on Snapchat is due to the fact that the platform is primarily visual-based rather text-based.
This can be clearly seen in how the network is used by audiences. According to J.P. Morgan research cited by eMarketer, the most common action by users is to watch a Snap Story.
In other words, Snapchat behavior is already inherently video/image-centric, which could help it significantly in the future.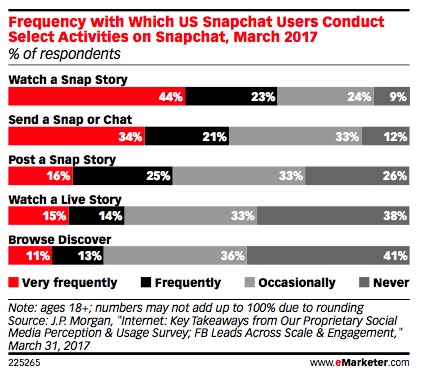 4. Social Networks Have Gone All-In on Video Advertising, and Marketers Have Noticed
Social networks aren't just changing how video content is shown—they're also transforming video advertising.
While many websites continue to show advertisements which look largely like traditional television pieces, social networks have been innovating with new formats and ways to present ads. This can be seen in all sorts of ways, from YouTube's skippable TrueView units, to Facebook's media that can be recorded on a mobile phone, and Snapchat's full-screen, swipe-able Snap Ads.
Beyond just formats, social networks have been working hard to create sophisticated delivery and measurement tools for advertisers.
This investment is clearly paying off; an Animoto survey cited by eMarketer found that 67% of US marketers that advertise on digital platforms buy video ads on Facebook and 51% buy ads on YouTube.
Impressively, social networks have quickly become the most-liked video outlets for brands; some 68% of marketers say social networks are important partners when planning a digital video campaign. This ranks them ahead of full-episode players such as Hulu, as well as ad networks and content publishers.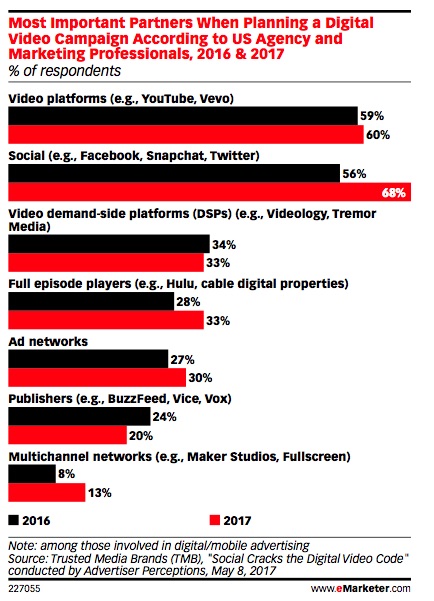 5. The Social Video Advertising Ecosystem Is Still Very Much in Flux
Finally, it's worth noting that although social video advertising is huge and growing rapidly, it's also still new and evolving.
This can be seen clearly in some discrepancies between the ad formats currently favored by marketers and consumers.
According to an IAB survey of digital marketers, some 60% of digital video spend this year will go toward traditional formats such as in-video ads (pre-roll, post-roll, etc.) and article-based page ads (rich media on sites).
In contrast, a survey of by Kantar Millward Brown found that the most-preferred types of digital ads by Canadian consumers are more innovative formats, such as mobile reward videos (those that provide a benefit for watching), skippable video ads (common on YouTube), and skippable vertical videos (common on Snapchat).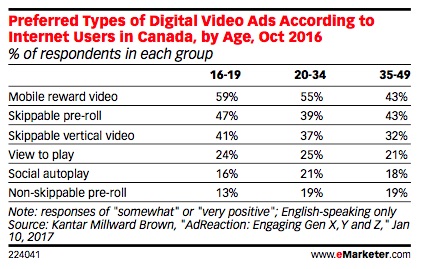 This doesn't mean that advertisers aren't fans of the new formats, just that there's a bit of a lag between what consumers have embraced and where budgets are being spent.
That in many ways reflects the larger story of the trend—video advertising has been widely embraced by social networks and audiences, now advertiser interest and spend is quickly catching up.
Follow what's evolving in social media advertising. Contact MDG today at 561-338-7797 or visit www.mdgsolutions.com.
MDG, a full-service advertising agency with offices in Boca Raton and New York, NY, is one of Florida's top branding firms. MDG's capabilities include print advertising, direct mail marketing, branding, logo design, creative, media buying and planning, radio and TV advertising, outdoor, newspaper, digital marketing, website design and development, online video advertising, infographic development, email marketing, video marketing, mobile marketing, content marketing, social media marketing, paid search marketing, and SEO. To learn about the latest trends in advertising and branding, contact MDG today at 561-338-7797 or visit www.mdgsolutions.com.