South Florida Fair TV Spot Celebrates 100 Years And Holiday Fun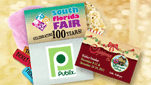 As the South Florida Fair prepares to celebrate 100 years, MDG has developed and produced an upbeat TV commercial featuring a FREE offer for festive fun. When visitors purchase discounted Fair tickets at Publix, they'll receive the "gift" of a FREE ticket to Christmas in Yesteryear Village. This old-fashioned Christmas event is a holiday highlight being held December 9-11 and 16-18 at the South Florida Fairgrounds.
To promote the Fair's 100 years and highlight the fact that the fair has been thrilling fairgoers in Palm Beach County for a century, MDG updated last year's successful "Share the Fair" TV commercial to focus on the special savings on this holiday event, and offer a sneak peek at all the Fair has to offer. The 30-second spot features a montage of actual Fair photos and the Fair's lively, catchy jingle. The special FREE admission offer through Publix is boldly placed in the middle of the ad, while the focus on the Fair's milestone anniversary remains prominent from beginning to end, with new jingle lyrics.
This new TV commercial is one part of MDG's integrated marketing campaign for the Fair. The agency is also handling social media for the Fair by implementing an online promotion consisting of 100 days of giveaways. This social media component was designed to encourage interactivity with attendees and generate buzz throughout the community.
While visitors have to wait to celebrate the South Florida Fair until January 13th through the 29th, Christmas in Yesteryear Village is happening right now, so take advantage of this FREE ticket offer and discounted admission at your neighborhood Publix today. For more information, visit www.southfloridafair.com
To learn how television advertising can help you achieve your marketing goals, contact MDG.
As a full-service Florida advertising agency, with offices in Boca Raton and New York, NY, MDG specializes in developing targeted Internet marketing solutions, exceptional creative executions and solid branding and media buying strategies that give clients a competitive advantage. Our core capabilities include advertising, branding, creative, digital marketing, media planning and buying, public relations, Web design and development, email marketing, social media marketing and SEO.  To view MDG's portfolio, click here.