Southern Comfort Gets A Pick-Me-Up From New Media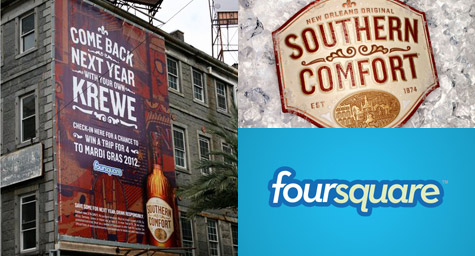 For an old-fashioned liqueur brand founded in New Orleans in 1874, new media may seem hard to swallow. But now Southern Comfort is debuting a new ad campaign incorporating both traditional and new media, plus an old-school style sweepstakes, to engage more effectively with modern-day consumers.
Centered around the Mardi Gras celebration in New Orleans on March 8, the campaign will include the new-media elements of social networks Facebook and Twitter, the location-based network Foursquare, and the Southern Comfort Web site. Outdoor advertising will represent traditional media.
The two modes will merge in a billboard at the corners of Royal and Canal Streets in the French Quarter of New Orleans, which will serve as a virtual check-in spot for Foursquare users. Those who check in at the billboard can enter a sweepstakes to win a trip for four to Mardi Gras 2012. In addition, the sweepstakes can also be entered by visiting the Southern Comfort fan page on Facebook at facebook.com/southerncomfort.
"We have a lot of experience with each of these channels individually," says Mike Isaac, assistant vice president and global marketing director for Southern Comfort at Brown-Forman in Louisville, Kentucky. "Being able to design something that works in each channel only makes our brand more relevant to consumers. Increasingly, the portal for their social life, their online experience, is through social networking and their mobile phones," he adds.
The campaign is also encouraging consumers to create a user-generated "Guide to Mardi Gras" with tips that revelers would find helpful, such as the best places to eat, top spots to watch parades and the phone numbers of local cab companies.
Southern Comfort's goal is to provide a brand experience that allows consumers to participate in the New Orleans celebration and tradition while making Southern Comfort a part of the party. New Orleans is where the brand began, which makes the promotion such a natural.
The overall campaign is a media collaboration among a digital agency, a traditional full-service agency, a brand-design agency and new-media networks. This partnership has worked closely together in positioning the brand and executing the campaign through the proper channels. Southern Comfort is calling the collaboration the new reality and the new paradigm for advertising, which they hope will refresh their old-fashioned brand.
MDG, a full-service Florida advertising agency, with offices in Boca Raton and New York, NY, specializes in developing targeted Internet marketing solutions, exceptional creative executions and solid branding and media buying strategies that give clients a competitive advantage.
Our core capabilities include print advertising, branding, logo design , creative, digital marketing, media planning and buying, TV and radio, public relations, Web design and development, email marketing, social media marketing and SEO. To view MDG's portfolio, click here.