Spring Cleaning for Digital Marketers: Four Things Every Brand Should Do Now [Infographic]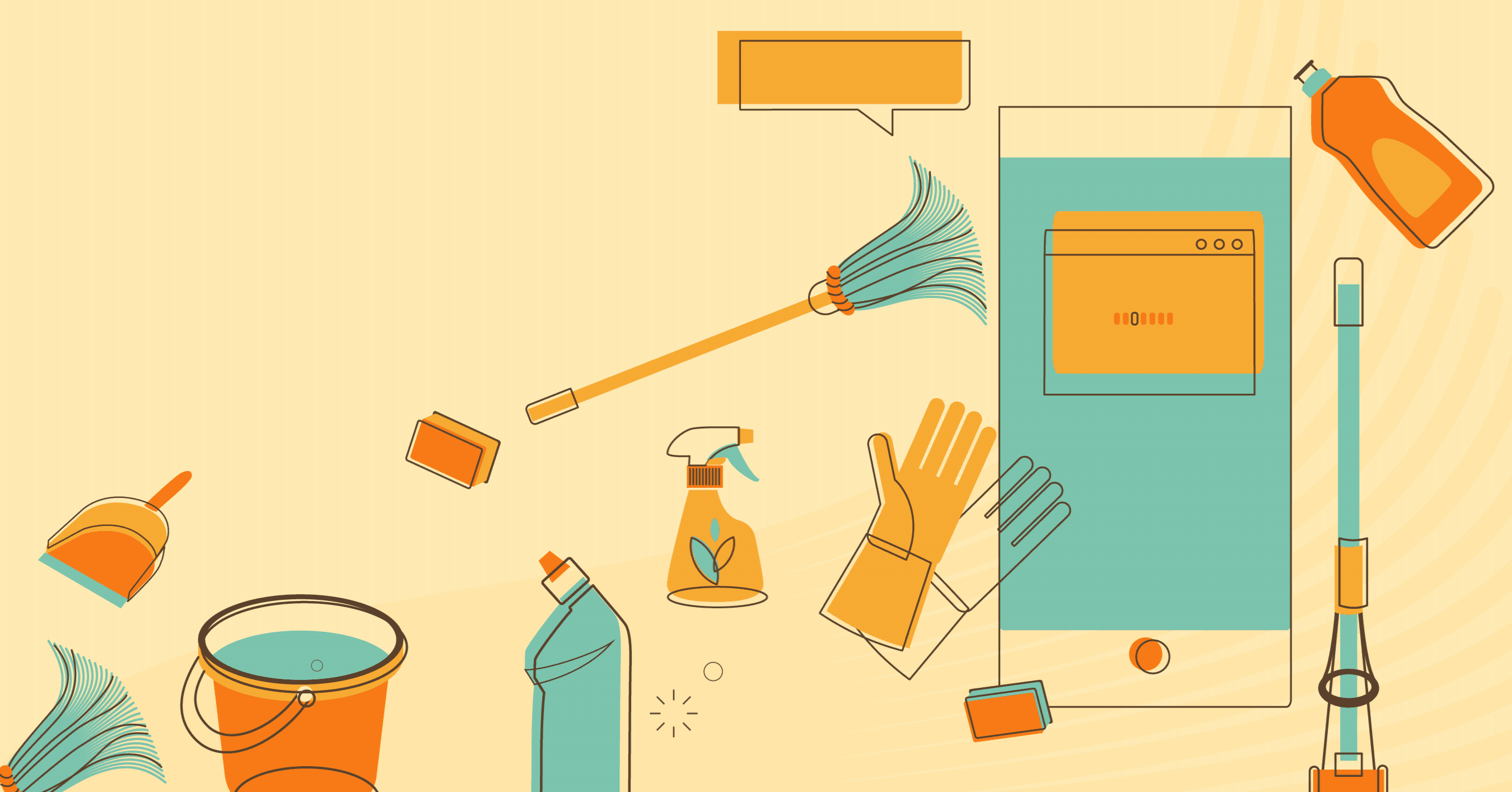 As we enter the season of new beginnings, what can brands do to freshen up their digital marketing efforts? Which channels, tactics, and platforms need a good dusting? Which need to be taken out to the trash?
Of course, each company has countless unique marketing efforts that need revisiting. However, there is a key set of approaches that spans all brands, and that every firm can benefit from taking hard look at.
Specifically, every marketer should tackle what's outlined below, as well as in MDG's new infographic, Spring Cleaning for Digital Marketers: 4 Things Every Brand Should Do Now.
[jump]

1. Revisit Which Social Networks You're Engaging On
Much to marketers' dismay, the social media landscape is constantly in flux. Given that, begin your digital spring cleaning by looking at whether you're engaging on the right set of platforms.
To start with, ensure that the networks you're focusing on are the most popular with audiences:
The Most Used Social Networks by Americans in 2018
YouTube (73% of American adults use)
Facebook (68%)
Instagram (35%)
Pinterest (29%)
Snapchat (27%)
LinkedIn (25%)
Twitter (24%)
WhatsApp (22%)
Of course, you don't just need any audiences, you need the right audiences. If you're targeting younger consumers, it may be time to shift more spend to visual-first networks like Instagram.
The Most Popular Social Networks wIth U.S. Adults Ages 18–24
YouTube
Facebook
Snapchat
Instagram
Twitter
You should also look at the effectiveness of specific social networks for your vertical. For example, there are big differences in how useful B2B and B2C marketers find various platforms.
B2B Marketers' Favorite Social Networks
LinkedIn
YouTube
Twitter
Slideshare
Facebook
B2C Marketers' Favorite Social Networks
Facebook
YouTube
LinkedIn
Twitter
Instagram
Given the pace of change, you'll never get the perfect, set mix of social networks for your firm. Rather, focus on adding the platforms you're missing and weeding out those that aren't working.
2. Clean Up Your Data and Secure It Properly
Data is essential to digital marketing success: it underpins everything from successful automation to targeted ads. Yet, for many marketers, this foundation is shaky.
One problem is that many firms have focused on data quantity rather than quality.
Marketers Say Data Quality Issues Are Rampant
55% say there's a significant amount of incorrect data in their databases
51% say that their databases are missing important data
50% say they're struggling with data decay
A second key issue is that companies have not been vigilant in protecting sensitive data.
Consumers Have Little Trust in Firms' Data Protection Policies…
69% of consumers believe companies are vulnerable to hacks and cyberattacks
68% of consumers don't trust brands to handle their personal information appropriately
75% of consumers believe most firms do not handle sensitive personal data responsibly
…. And Most Consumers Don't Think Data Protection Is Improving
36% of consumers don't think brands' data protection/privacy policies are getting better
31% of consumers think brands' data policies are actually getting worse
Why does this matter? Because consumers punish firms that have poor privacy/data policies.
85% of consumers say they'll stop doing business with a company if they have concerns about its security practices
This spring take a close look at the quality of your data and how it's being handled. Cleaning out the bad and securing the good can improve performance and satisfy consumers' concerns.
3. Make Mobile Load Speed a Top Priority
It's often hard for brands to know what search engines want. This year, though, is different. Platforms like Google have clearly said they want to see one key thing: fast mobile page loads.
What does "fast" mean? Google's current guidelines say:
5 seconds or less: How long it should take for all initial page elements to load—including interactive pieces—on a mid-range mobile device with a slow 3G connection
2 seconds or less: How long it should take for subsequent pages to load
Unfortunately, most publishers are not yet succeeding in meeting these guidelines:
15 seconds: How long it currently takes mobile pages to fully load, on average
Why are search engines prioritizing mobile load speed? Because it matters to consumers.
53% of mobile site visitors leave a page that takes longer than three seconds to load
What's making mobile pages so slow to load? A key contributor is large images/graphics.
It takes 5+ seconds for visual content to appear above the fold on 70% of mobile pages
To perform well on search—especially mobile search—brands need to pay close attention to mobile load speed. For marketers, this may mean it's time for a spring downsizing of pages.
4. Go All In on Marketing Attribution
Attribution—assigning the proper value to each channel or touchpoint during each customer's purchase process—has long been known by brands to be the holy grail of marketing. 
90% of marketers say marketing attribution can significantly contribute to success
What's so great about attribution? Marketers who utilize it say it helps in a wide range of ways.
Marketers Say the Top Benefits of Marketing Attribution Are…
It provides a better understanding of how digital channels work together
It helps with better allocation of budgets across channels
It enables a better understanding of digital/offline interactions
It provides useful insights into consumer and customer behavior
It establishes more accountability for various marketing efforts
Despite these many benefits, the majority of marketers have not gone all in on attribution.
Only 31% of marketers use attribution on the majority of/all of their campaigns
Just 17% of advertisers look at the performance of all their digital channels together
Why the reluctance? Technical issues were responsible in the past, but that's less true today.
73% of marketers say their marketing technology stack can deliver effective attribution
What's holding marketers back, then? Largely it comes down to staffing and time challenges.
Why Marketers Say They Do Not Always Engage in Marketing Attribution
Lack of knowledge
Lack of time
Technology limitations
Too much/too disparate data
Internal politics
As with the other approaches covered, for most firms, properly executing marketing attribution will take some budget, training, and structural changes. That may sound daunting now, but making these investments this spring can help tremendously in the seasons to come.
To find out more, check out the full infographic, Spring Cleaning for Digital Marketers: 4 Things Every Brand Should Do Now.

Learn more about the latest trends in digital marketing. Contact MDG today at 561-338-7797 or visit www.mdgsolutions.com.
MDG, a full-service advertising agency with offices in Boca Raton and New York, NY, is one of Florida's top branding firms. MDG's capabilities include print advertising, direct mail marketing, branding, logo design, creative, media buying and planning, radio and TV advertising, outdoor, newspaper, digital marketing, website design and development, online video advertising, infographic development, email marketing, video marketing, mobile marketing, content marketing, social media marketing, paid search marketing, and SEO. To learn about the latest trends in advertising and branding, contact MDG today at 561-338-7797 or visit www.mdgsolutions.com.