State of the Internet 2015, Part 1: Content Trends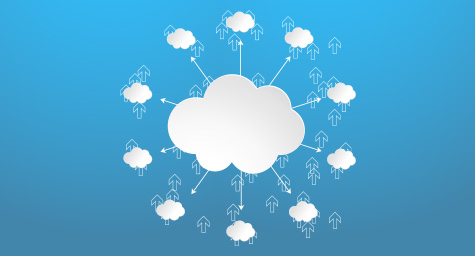 As we pass the midpoint of the year, many digital gurus are taking stock of where things stand and what's ahead. In particular, two key examinations of the state of the Internet were recently published: Mary Meeker, the longtime soothsayer at VC firm Kleiner Perkins Caufield & Byers, presented her 2015 Internet Trends Report and Social Media Examiner released its annual Social Media Marketing Industry Report.
Both of these reports are fascinating and exhaustive, covering everything from millennial messaging patterns to drone development in hundreds of slides and charts. If you don't have time to sort through it all—which could very well take up the rest of your 2015—we've pulled together an overview of the highlights in three (fairly short) posts.
In this piece, we're going to cover some of the major content developments that have surfaced this year; in the second post, we'll feature key happenings in social media, and in the third post, we'll look at what the future may hold.
So, what's the state of content on the Internet in 2015? Here are four key trends from the reports:
1.  User-generated media is massive: The importance of user-generated content is nothing new. For a long time people have been talking about how it's transforming everything from restaurant reviews (i.e., Yelp) to information discovery (i.e., Quora). However, as Meeker notes in her presentation, this year the steady stream of content created by amateurs has become a flood.
This trend can be seen across platforms and content types. Some examples:
Twitch, a video platform that allows users to live stream when they play video games, is exploding. Monthly active users are up 122%, to 100 million, and minutes watched (+33%) and videos broadcast (+83%) are up significantly as well.
SoundCloud, which lets users upload and curate audio content, now has 100 million tracks (+33% year-over-year), with most of that content coming from relatively unknown creators.
Wattpad, a platform that allows people to upload written content/stories, now has 40 million monthly unique visitors (+48% year-over-year).
Snapchat's Live Stories, which aggregate user video and photos from events, are garnering massive audiences, including 40 million viewers during Coachella.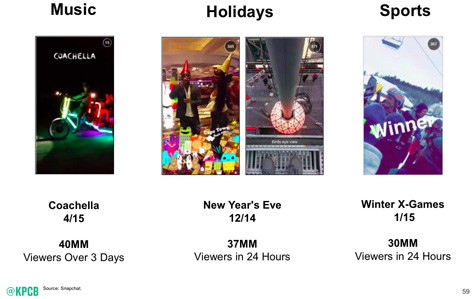 2.  Digital video is going small—and vertical: Remember when video was watched mainly on televisions, with their big screens and horizontal orientations? Thanks to the rise of mobile devices, that's quickly changing.
Just five years ago, only 5% of video viewing in the United States occurred on mobile devices. Today that share is up to 29% and quickly rising.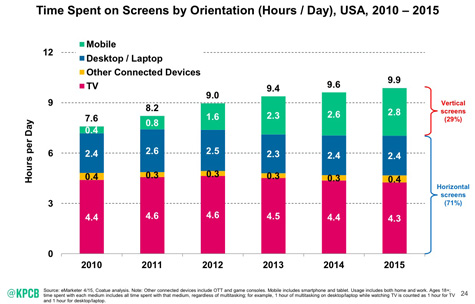 Meeker notes that it's important keep in mind that mobile phones not only have smaller screens, but also are also often held vertically. That has huge implications for both content creators and advertisers.
For example, she highlights the fact that full-screen vertically oriented video ads on Snapchat have a 9x higher click-through rate compared with regular horizontal video ads.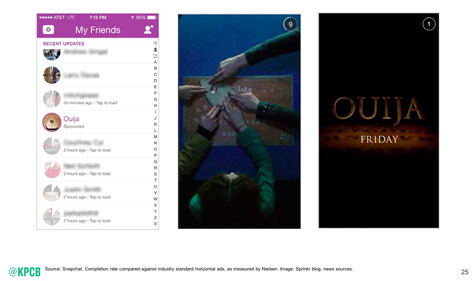 3.  Don't underestimate the continued power of blogs: Emerging content types understandably tend to get a lot buzz, but, while experimenting with them is essential, it is also important to pay attention to established channels. In particular, blogs continue to be highly effective for most marketers.
Social Media Examiner's report, which was based on data from a survey of both B2C and B2B marketers, found that nearly half (45%) rank blogs as the most important content they create—ahead of visual pieces (34%), videos (19%), and podcasts (2%).
Blogs are viewed as being especially important by B2B marketers, with 57% ranking them as the most important content type they create.
4.  New ad formats are taking off: When it comes to digital ads, change seems to come in fits and starts, with many new unit types often appearing at the same time. Meeker notes that we're currently in the midst one of these times of rapid innovation.
Thanks to the rise of mobile and video, as well as new platforms willing to push boundaries, everyone—including brands, advertisers, and consumers—is set to benefit from higher-quality, innovative, more-engaging ads.
Some examples that Meeker cites are:
Pinterest's Cinematic Pins, which adapt to a viewer's screen and allow video to accompany the experience as they scroll.
The Vessel platform's 5-second ads, which are the perfect length to accompany short-form videos.
Facebook's Carousel Ads, which allow users to swipe through multiple images/products, making it much easier to have a deeper experience.
Google's Local Inventory Ads, which bridge the gap between local brick-and-mortar businesses and e-commerce by allowing consumers to see products available nearby.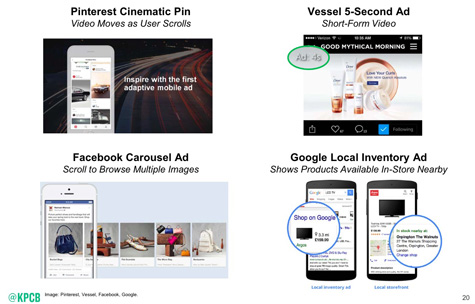 Be on the lookout for more insights from the two reports in our upcoming posts on the highlights of social media and future  trends.
Learn the latest content marketing strategies. Contact MDG today at 561-338-7797, or visit www.mdgsolutions.com.
MDG, a full-service advertising agency with offices in Boca Raton and New York, NY, is one of Florida's top branding firms. MDG's capabilities include print advertising, direct mail marketing, branding, logo design, creative, digital marketing, media buying and planning, radio and TV advertising, Web design and development, online video advertising, infographic development, email marketing, content marketing, inbound marketing, lead generation, social media marketing, and SEO. For the latest trends in advertising and branding, contact MDG today at 561-338-7797 or visit www.mdgsolutions.com.