State of the Internet 2015, Part 2: Social Media Trends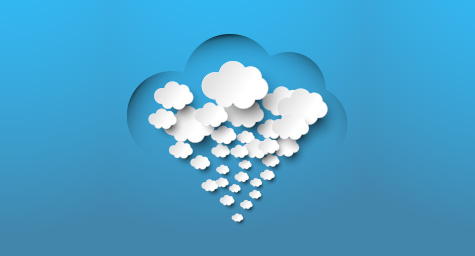 What are the big social media trends of 2015? Which platforms and features should marketers be paying close attention to?
In this State of the Internet series of posts, we're looking at the most important digital developments featured in two recently released analyses: Mary Meeker's 2015 Internet Trends Report and Social Media Examiner's Social Media Marketing Industry Report.
The first part of our series examined 4 major content advancements underscored in the reports, and in this piece we're going to take a look at the most impactful social media changes. The third post will cover 6 trends for the future.
So what's happening in the world of social media? Because the networks are new, and evolving  rapidly, each of the reports flags a host of recent changes, both big and small. However, after sifting through the hundreds of charts and insights, a few key learnings for marketers emerge.
Our five biggest social media-related highlights from the reports are:
1.  Facebook, Twitter, and LinkedIn have become essential tools for marketers: To start off, which social networks are working well for marketers in 2015?
According to the Social Media Examiner report, the clear winners are Facebook, Twitter, and LinkedIn.
The survey of 3,720 marketers from around the world found that 93% are using Facebook as a marketing tool, the most of any social media network; Twitter is second (79% of marketers use), followed by LinkedIn (71%).
When asked to pick which social network is most important for their business, most B2C marketers choose Facebook (65%); Twitter is second (10%), followed by LinkedIn (9%).
B2B marketers rank LinkedIn as the most important social network for their business (41%), followed by Facebook (30%), and Twitter (19%).
2.  Pinterest is much deeper and more diverse than you think it is: Most marketers are already well aware that Pinterest is an excellent way to connect with certain demographics (most prominently women) interested in certain topics (most commonly fashion, beauty, and food).
However, Meeker notes in her presentation that there is also significant interest from users in other verticals, and that the platform is quickly becoming content-rich in many "non-core" areas.
For example, she points out that in the past year the number of car and motorcycle pins is up 118% year-over-year, and the number of men's fashion pins is up 96%.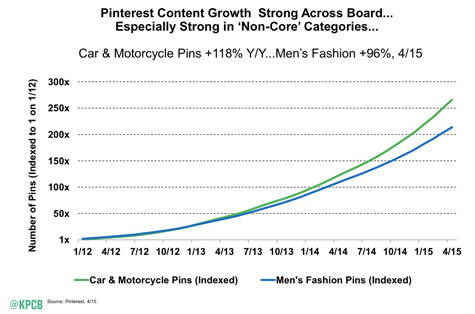 3.  Facebook has already become a huge video platform: Facebook CEO Mark Zuckerberg has said that he expects the social network's News Feed to be mostly video in five years. Turns out he may not have to wait that long.
Meeker's report highlights the dramatic increase of video use on the platform, which has spiked thanks to a concerted effort by the company to encourage both uploading and viewing.
So, how big is Facebook's video audience? In the first quarter of 2015, the company averaged 4 billion views per day, up from 1 billion in 3Q14. Moreover, half of the platform's daily active users watch at least one video per day.
4.  E-Commerce integration is getting much better: One of the challenges that digital marketers have long struggled with is connecting social engagement to purchase action, especially on mobile devices.
That issue may soon be a thing of the past. Meeker notes that many of the big social networks—including Facebook and Twitter—are integrating buy buttons directly into their mobile paid ad units.
On top of that, quickly paying while mobile browsing in social apps is becoming easier as systems like PayPal, Buy With Google, and Apple Pay continue to expand their reach.
5.  Messaging apps are massively popular: Finally, an important social media takeaway from Meeker's presentation is that marketers who ignore messaging apps do so at their own peril.
Why? Because in our increasingly mobile-first world, these applications—such as WhatsApp, Snapchat, and WeChat—are becoming the cornerstone of communication, especially for younger consumers.
As Meeker notes, 6 of the top 10 apps used globally are messaging apps, with these programs also dominating the list of top apps by number of sessions.
Discover the latest trends in social media marketing. Contact MDG today at 561-338-7797, or visit www.mdgsolutions.com.
MDG, a full-service advertising agency with offices in Boca Raton and New York, NY, is one of Florida's top branding firms. MDG's capabilities include print advertising, direct mail marketing, branding, logo design, creative, digital marketing, media buying and planning, radio and TV advertising, Web design and development, online video advertising, infographic development, email marketing, content marketing, inbound marketing, lead generation, social media marketing, and SEO. For the latest trends in advertising and branding, contact MDG today at 561-338-7797 or visit www.mdgsolutions.com.