State of the Media: Nielsen's Social Media Report 2012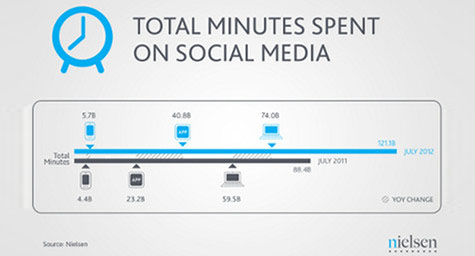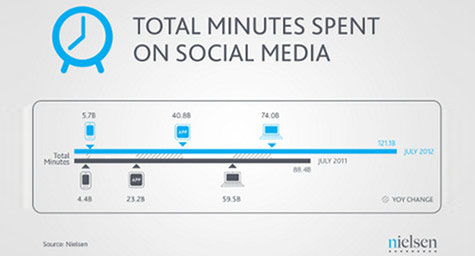 Nielsen recently released an insightful look at how social media has rapidly evolved from a fun way to connect with friends into an integral part of our daily lives and a mainstream mode of communication used by consumers and companies worldwide. Social media has already become a global phenomenon and its growth shows no signs of stopping as new digital devices and niche social networks continue to offer ways for people to access the social media they crave. Along with this explosion of new social media tools and sites has come a transformation in the ways people use social media. Once only a forum for friendly chat, social elements have been added to an abundance of our personal and professional activities, from watching TV to reaching customer service and this social infusion has only just begun. For an in-depth view of how we connect, why we engage, who we want to reach, what we share, and where in the world we're headed along the social spectrum, the following discoveries and directions were gleaned from Nielsen's The Social Media Report 2012.
It came as no surprise that people were spending much more time on the Internet via both PC and mobile devices over the past year, but it was interesting to see that online time spent via mobile apps was up 122 percent and time spent via mobile web was up 22 percent, yet time was up only 4 percent on PCs. The report also revealed that people spent more of their time on social networks than any other type of website. The rise in time showed that people were more deeply engaged with these social channels, which has contributed to their evolution beyond personal use and into a powerful digital marketing tool for businesses. Considering these time increases for both social media and mobile Web usage, the report concluded that social networking is all about mobile.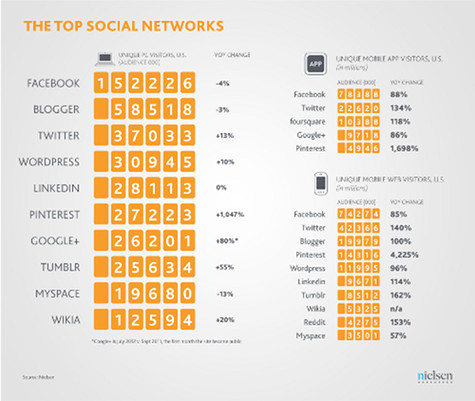 The popularity of social media networks has made competition fierce among these social sites. To illustrate their high-tech hierarchy, the report featured a ranking of the most-visited social media networks over the past year. Interestingly, their rankings remained the same whether people accessed them via PC browser, mobile Web browser, or mobile app, yet the top social media networks saw greater growth from their mobile audience than from PC users. Facebook topped the list, followed by Blogger, Twitter, WordPress, LinkedIn, Pinterest, Google+, Tumblr, MySpace, and Wikia. Pinterest had the greatest growth year-over-year with a 1,047 percent increase, followed by Google+ with an 80 percent rise. When only mobile Web and apps were factored into the rankings, Facebook again led the list, followed by Twitter, but Twitter's growth among mobile users has grown nearly twice as much as Facebook's in the past year.
Just as important as the social media sites we frequent were the physical places and personal reasons we chose to connect. According to the report, some have been putting the "work" into network with half of people aged 25 to 34 using social media at the office, which was the largest demographic using social sites at work. Beyond the business realm, most people used social sites for personal purposes like communicating with people they knew, keeping up with social happenings, and connecting with mutual friends. Perhaps the popularity of social media is due to the wonderful way it made most people feel. Three-quarters of users felt positive after their social sessions, while one-quarter felt neutral, and even fewer felt negative. The feelings of happiness, connectedness, amusement, and excitement felt by most social users could possibly explain its dominance in our lives.
Speaking of our lifestyles, the report revealed a strong trend toward the simultaneous usage of digital devices while watching TV (second screen). It showed that 41 percent of tablet users and 38 percent smartphone users spent time on these gadgets while in front of the TV screen. During this dual media use, almost half of the tablet users were shopping online or accessing social media, while 38 percent of smartphone users were accessing social media and around 20 percent were either looking up TV show-related information or online shopping. Another television trend was the way that Twitter drove social TV interaction. One-third of Twitter users tweeted about television content this year, which was a 27 percent jump from last year.
The report also addressed the rise of social care, which was the act of connecting with customer service representatives through social media. Social care has become an urgent priority among brands worldwide. Since consumers could choose from a large range of social media sites to voice their complaints and issues, companies needed to quickly react and remedy these customer problems to ultimately reduce any damage to their brand images. The takeaway was that companies needed to monitor as many social channels as possible to ensure they maintained control of their image and impressions. Social care has completely changed the nature of customer service as one-third of social media users said they preferred social care to contact by phone. The most popular platforms for accessing social care were the company's Facebook page, followed by the user's personal Facebook page, the official company blog and the Twitter handles of both the company and individual.
The increase of social media for corporate use has led to the rise of advertising on social networks. Ads on social sites have faced some controversy since some see them as intrusions and others view them as welcome additions. According to the report, even though one-third of social media users deemed these ads as annoying, more than one-quarter of users were likely to pay attention to ads posted by their social contacts and also approved of ads identified based on their profiles. Social likes were the most common reaction to viewing a social ad, which proved that social ads could work wonders for a brand's exposure. Demographically, social media ads had the strongest influence on U.S. Asian consumers with this audience most likely to like, share, and purchase a product after viewing its ad on a social media site.
The escalation of advertising on social networks can be attributed to the enormous influence of social media in consumer decision-making. The opinions, behaviors and decisions of consumers have been increasingly driven by the preferences and recommendations of their social networks. The report revealed the increase in social media influence on purchase intent. Each month, 70 percent of social media users heard the product experiences of others, 65 percent learned about brands and their offerings, and half complimented brands, while another half criticized them.
Given the global reach of social media, this strong social influence affected the lives of consumers around the world, yet there were differences displayed in the geographic regions. More than 90 percent of consumers around the world connected to social networks from their computers, but 60 percent of Asia-Pacific users used mobile phones to access social sites compared to only 33 percent of users in Europe and Latin America. Tablets were used by 28 percent of those in Asia-Pacific for social access, yet by fewer than 10 percent of users in the Middle East, Europe, and Latin America. Finally, there was only a small amount of social network access by this global audience via Internet-enabled TV, game consoles, and handheld music players.
The topic of global social media access brought up the issue of whether TV watching in other countries has become as simultaneously social as it has in the U.S. Interestingly, the rest of world is even more likely to enjoy multiple media at once. A whopping 63 percent of Middle Eastern users interacted socially while watching TV, followed by 52 percent of Latin American users, 47 percent of those in Asia-Pacific, and 38 percent of users in Europe. Just like in the U.S., such social access has the power to influence an abundance of global consumer decisions, from which TV shows to watch to what products to buy and the brands to prefer. No wonder companies around the world have transformed social media from a friendly forum into a major digital marketing tool.
When judging the success of social media as a digital marketing machine, a lot can be deduced by the likelihood of consumer purchases based on social sentiments. The report revealed that a large amount of consumer purchasing decisions worldwide were expected to be influenced by social media. The greatest social impact was forecast for the Asia-Pacific region, with 75 percent of users expecting social to sway their home electronic purchases, 74 percent for their entertainment and clothing choices, 72 percent for their travel and food decisions, and 69 percent for their appliance and restaurant selections. In contrast, social media was expected to have the lowest impact among users in Europe, yet almost half of European users felt social would affect their decisions regarding home electronics, travel, appliances, and entertainment. Interestingly, major decisions such as automobile purchases and financial choices were expected to be only moderately swayed by social voices heard around the world.
According to the report, social media has taken over lives and taken on a life of its own. Amazingly, this social phenomenon continues to grow and transform the way the world works and plays.
To learn more about the top trends in social media marketing, contact MDG today at  561-338-7797 or visit www.mdgsolutions.com.
MDG, with offices in Boca Raton and New York, NY, is a full-service advertising firm and one of South Florida's premier digital marketing companies. MDG specializes in developing targeted integrated marketing solutions, exceptional creative executions, and solid branding and media-buying strategies that give clients a competitive advantage. Our core capabilities include print advertising, branding, logo design, creative, digital marketing, media planning and buying, radio and TV advertising, Web design and development, email marketing, social media marketing, and SEO. View MDG's creative marketing portfolio.
Read more at Nielsen.