Streaming Devices to Dominate Mainstream TV Viewing in the Future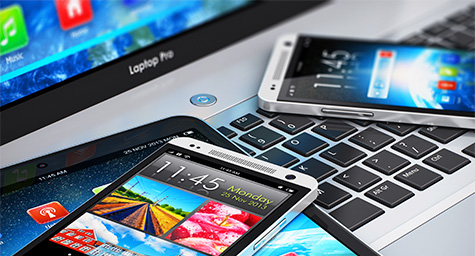 With more than 70% of viewers in broadband households having streamed full-length TV shows in the past six months, streaming devices like laptops, smartphones, and tablets are predicted to prevail as the preferred viewing vehicles in the coming years. This was one of the featured findings from the NATPE||Content First and the Consumer Electronics Association (CEA)® joint research study which analyzed the attitudes of consumers toward TV content across all platforms. BroadcastingCable.com aired some of the survey highlights.
"Our study confirms that the paradigm for TV content discovery has changed dramatically with increased availability and use of TV content streaming options," said NATPE president & CEO Rod Perth.
Industry experts expect this shift toward streaming to have major implications for consumer electronics manufacturers, most notably in how they market their products and reach their target audiences.
What Our TV Watching Ways are Showing
According to the joint study, there is a definite decline in the amount of time spent watching live TV programs at their scheduled airtime, especially among Millennials. Some of the other telling TV results revealed in the survey included:
The rise in multi-screen viewing of TV programming will greatly affect how media and marketers affect audiences in the future.
Millennials are much more likely to consume full-length TV programs from a streaming source than on live TV at the original air time or in recorded content via DVR.
84% of Millennials surveyed used a streaming device in the past six months.
Around 50% of Millennials view TV content on a laptop.
28% of Millennials watch television on a tablet, while 22% view shows on a smartphone.
Only 55% of Millennials make TVs their primary viewing platform.
Millennials feel stronger than other generations about having the freedom to watch TV content on their own time and terms, yet this benefit matters to all generations.
Perhaps this is why Millennials prefer Netflix over cable and broadcast, with 51% citing their Netflix subscription as very valuable, versus 42% feeling that way about broadcast channels and 36% about cable subscriptions.
Gen Xers in the survey were the heaviest users of video on demand (VOD) and DVRs.
Gen Xers chose VOD for its convenience and opted for DVR to avoid commercials.
With these TV trends expected to continue, the industry is watching more closely than ever how people are watching TV.
Discover the latest trends in TV. Contact MDG.
MDG, a full-service advertising agency with offices in Boca Raton and New York, NY, is one of Florida's top branding firms. MDG's core capabilities include print advertising, direct mail marketing, branding, logo design, creative, digital marketing, media planning and buying, radio and TV advertising, Web design and development, online video advertising, email marketing, content marketing, social media marketing, and SEO. To learn about the latest trends in advertising and branding, contact MDG.