Study Reveals What Really Increases Twitter Followers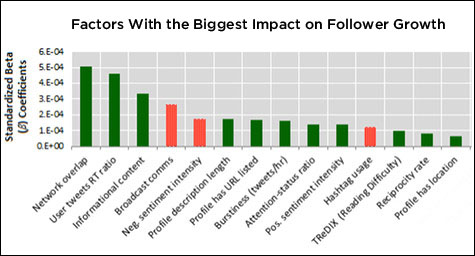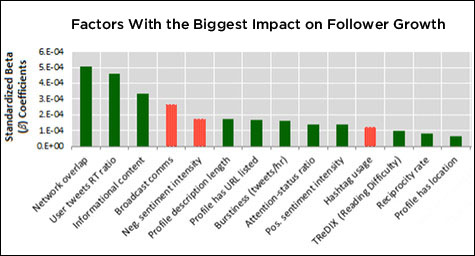 Social media has become so important to building brands that marketers have started analyzing it like a science. They carefully monitor various kinds of comments and content in an effort to develop marketing messages that turn audiences into advocates. The latest social study conducted by the Georgia Institute of Technology focused on the specific factors that generate more Twitter followers. The study yielded some important insight and Poynter.org featured the following follower tips.
"Expressing negative sentiments in tweets is the second most harmful factor to growing a Twitter audience," said researchers from the Georgia Institute of Technology. "This might be because Twitter is a medium dominated by very weak social ties, and negative sentiment from strangers may be unpleasant or uncomfortable for a potential new follower to see."
The study tracked data from more than 500 active Twitter users who tweeted approximately 500,000 times over 15 months. The participants were randomly selected from the public timeline over a two-week period and screened for specific conditions like an active Twitter account over one-month old with at least 15 friends and five followers. The researchers reviewed their follower growth every three months and closely examined their tweets and social actions to determine what contributed to their progress.
The tweets were compared on three kinds of factors. The first was the content of the tweets. The second was the way the person tweeting interacted socially, and the third was the types of followers the tweeter had in their network.
According to the researchers, the unique nature of the study made it particularly groundbreaking since it was the first longitudinal study of audience growth on Twitter to mix such diverse, theory-inspired variables.
Along with their findings regarding the hazards of negative tweets, the researchers also found that information-based content attracted three times more followers than personal content, which actually hindered growth. This was attributed to the generally weak social ties of Twitter since followers are usually not very close to the people they follow and subsequently aren't really interested in their personal information. The takeaway was that tweeting informational content was a much stronger magnet for followers than sharing personal commentary.
Overall, the factors that had the greatest positive impact on follower growth included the number of connections the person tweeting had in common with potential new followers, as well the frequency of others retweeting the person's tweets, a high ratio of followers to following, an abundance of positive tweets, and a detailed bio. Factors that had a negative effect on growth were too many general broadcast-type tweets, lots of negative comments in tweets, and cramming too many useless hashtags into tweets.
The study showed that there truly is a science behind social media.
Learn more about Twitter and the latest social media strategies. Contact MDG.
MDG, with offices in Boca Raton and New York, NY, is a full-service advertising agency and one of Florida's top creative ad agencies. MDG specializes in developing integrated marketing solutions, exceptional creative executions, and solid branding and media-buying strategies that give clients a competitive advantage. Our core capabilities include print advertising, branding, logo design, creative, digital marketing, creative media planning and buying, radio and TV advertising, Web design and development, email marketing, social media marketing, and SEO. For the latest on Twitter and social media marketing trends, contact MDG.