Study Shows Americans are Gripped with Keeping a Tight Grip on Their Smartphones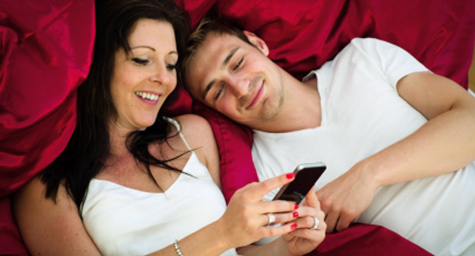 Americans simply won't let go of their smartphones, according to a new Jumio online study that revealed how America's addiction to its mobile devices drives users to take them to some surprising and steamy places. Some unusual findings included using smartphones in the shower, at houses of worship, and even during sex. The study also revealed how Americans are serious about protecting their precious smartphones, along with the private information they contain. For a closer look at the improper and sometimes indecent behavior that smartphones can inspire, Jumio.com posted all the details.
"People view their smart­phones as an exten­sion of them­selves, taking them every­where they go—even the most unorthodox places—from the shower to their com­mute, from the dinner table to the bed­room," said Marc Barach, chief mar­keting and strategy officer at Jumio. "And panic sets in when con­sumers are sep­a­rated from their devices, with pri­vacy con­cerns top­ping the list."
Con­ducted in June by Harris Inter­ac­tive for Jumio, the 2013 Mobile Con­sumer Habits study polled around 2,000 U.S. adults, with more than half being active smart­phone users.
According to the study, 72% of respondents insisted on keeping their smartphones less than five feet away at most times. Approximately one-third admitted to bringing their smartphones to some unwelcome places, including the movie theater, on a date, and to a child's school event. As proof that they worship their smartphones, 19% brought them along to places of worship. On a steamier note, 12% brought their phones into the shower, and 9% used them during sex. No wonder 12% of respon­dents in rela­tion­ships said their smartphones often caused problems with their partners.
While many saw no problem in taking their smartphones to such private places, they were very concerned with protecting the privacy of their smartphones. The study showed that almost 60% of Americans kept their smartphones pass­word pro­tected. Additional concerns included 65% who feared the theft of their phone, followed by 58 percent afraid of losing outside contact and one-third who feared that someone else would access their social profiles.
Privacy was also deemed more important to singles, with 69% of unattached respondents inclined to password protect their phones compared to the 55% of married people who did the same.
Perhaps these privacy concerns stemmed from the finding that almost 30% admitted to peeking and prying into someone else's phone. This inappropriate probing was almost twice as prevalent among single than married respondents, as well as admitted by a whopping 47% of respondents under age 35.
Even though they're called smartphones, it looks like Americans sometimes use them rather foolishly.
Discover the latest trends in smartphone adoption and how to leverage mobile marketing for your brand. Contact MDG today at 561-338-7797 or visit www.mdgsolutions.com.
MDG, a full-service advertising agency with offices in Boca Raton and New York, NY, is one of Florida's top creative ad agencies. Our core capabilities include print advertising, branding, logo design, creative, digital marketing, media planning and buying, radio and TV advertising, Web design and development, infographic development, online video advertising, email marketing, mobile marketing, social media marketing, and SEO. For the latest on mobile trends, contact MDG today at 561-338-7797. To learn more about how mobile is making its mark on the world and will forever change the way we live our lives, take a look at "How Mobile is Taking Over the World."