Study Shows That Local TV News Promotes Likeable Views of Ads During Airings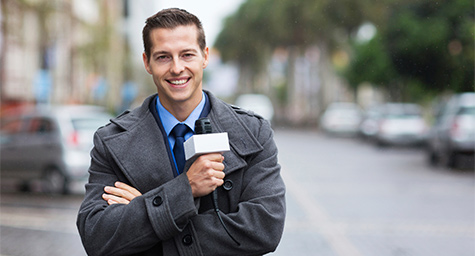 It looks like local television newscasts make products look likeable. That's the story from a new study by GfK for Hearst Television that revealed how local TV news viewers channeled their high levels of trust and engagement in the newscasts directly into the products promoted during these broadcasts. And that positive perception was so strong that it not only piqued viewers' interest in the items advertised, but also prompted them to purchase them. Apparently, the friendly faces on local TV news had a halo effect on the products advertised in airings. To show how much local TV news affected viewers' views, NetNewsCheck.com told more of the story.
The study showed that local TV news ads inspired action. Almost two-thirds of respondents age 25 to 54 claimed to often or sometimes research or purchase something advertised during the local TV news broadcast. Plus, 45% of all study respondents believed that brands that placed ads during local TV news truly cared about the viewers and their communities.
Trustworthiness and relevance were repeatedly named as advantages for local TV news. While nearly 80% of respondents claimed that they trusted the things they heard on local TV newscasts, only 74% felt the same about broadcast network newscasts and newspapers. And more than three-quarters of respondents said that the most relevant form of news for their family was local TV news.
"These findings support that local TV is a leading news-and-information media resource in reaching consumers based on a combination of trust, relevance, attention level, word-of-mouth and purchase decisions," said Kevin Stuart, corporate research director of Hearst Television Inc.
And since marketers consider women to be the primary decision-makers regarding household purchases, it's important to note how females feel about the products promoted on this local level. Around half of female respondents age 25 to 54 reported both talking about and recommending the items advertised during local TV news to their friends and family.
Interestingly, some of the results challenged conventional thinking about the media interests of particular age groups. For example, 64% of respondents ages 25 to 34 claimed to rely on local TV news for relevant product and service ideas. Yet only 56% of adults age 35 and over turned to local TV news for this same insight. These findings defied the modern marketing mindset that younger adults placed more trust and time in digital channels than traditional ones. It also cast local TV newscasts as a viable vehicle to reach and resonate with younger audiences.
The survey was comprised of more than 2,600 local television news viewers ages 25 and older from Hearst Television news markets, which cover 30 U.S. cities and reach approximately 18% of American television households. The study evaluated the media practices and preferences of these consumers, including local TV news, cable TV news, broadcast network news, radio, print, and online versions of magazines and newspapers, online video sites, social networking sites, and search engine sites.
For brands that have overlooked local TV advertising because they doubted its impact, this study should come as welcome news and make them start channeling their attention and ads toward local TV news.
Tune in to the latest trends in TV advertising. Contact MDG.
MDG is a full-service advertising agency and one of Florida's top branding firms. With offices in Boca Raton and New York City, MDG's core capabilities include branding, logo design, print advertising, digital marketing, mobile advertising, email marketing, media planning and buying, radio and TV advertising, outdoor advertising, newspaper, video marketing, Web design and development, content marketing, social media marketing, and SEO. To discover the latest trends in advertising and branding, contact MDG.