Sunglasses Shop in New York City Sees Success by Following Food Truck Trend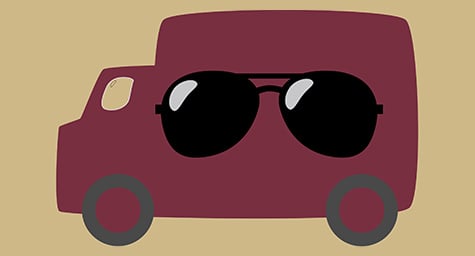 A new mobile sunglasses store has it made it in the shade by selling their wares on wheels. After seeing the popularity of the food truck scene in New York City, an insightful couple had the bright idea of selling sunglasses in the same affordable and accessible way. This led them to create the SunsTruck so they could take sunglasses to the street. PSFK.com offered a closer look at their vision.
Considering how New York City offers everything in easy reach, the SunsTruck provides a never-before-seen retail experience.
Creators Shaun and Rachel Moss built the business by converting a 14-foot Grumman step-van into a modern mobile store. This street boutique now travels to busy outdoor locations all around New York City where people are likely to wear and want sunglasses. At each stop, shoppers can come on board to look at the selection of sunglasses and purchase a pair.
Just as food trucks offer a fast and friendly alternative to slow or stubborn restaurants, SunsTruck provides a convenient and comfortable experience. The SunsTruck may have only hit the streets this summer, but its future looks bright.
Discover where marketing is moving. Contact MDG today at 561-338-7797 or visit www.mdgsolutions.com.
MDG is a full-service advertising agency and one of Florida's top branding firms. With offices in Boca Raton and New York City, MDG's core capabilities include creative, branding, logo design, print advertising, digital marketing, mobile marketing, email marketing, media planning and buying, TV and radio, outdoor advertising, newspaper, video marketing, Web design and development, content marketing, lead generation, mobile marketing, social media marketing, and SEO. To discover the latest trends in branding and advertising, contact MDG today at 561-338-7797.