Super Bowl XLVI Gets a Social Media Command Center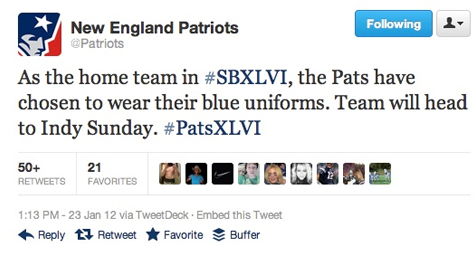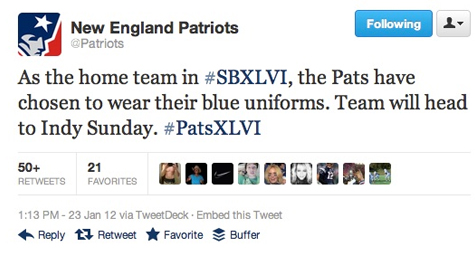 In an effort to handle the 150,000 people expected to attend the Super Bowl, the city of Indianapolis has plans to set up a central social media command center. Mashable.com recently explained how this concept will play out.
Located in downtown Indianapolis and running from the prior Monday up through the big game, the command center will be comprised of marketing strategists, technology whizzes, and digital analysts who will oversee fans' online interaction on social media sites such as Facebook and Twitter. Some of their tasks will include providing visitors with suggestions for area activities, tweeting parking directions, and serving as a crisis center in case of emergency.
"Social media is just how people interact now," said Taulbee Jackson, CEO of Raidious, the digital marketing agency managing the command center. The social media team will be able to reach out to fans in need through the use of advanced analytics and search tools that can index key words and phrases. For example, if a fan tweets about parking, the team will be alerted to respond with helpful parking information.
With the ubiquity of social media among people of all ages, the command center is expected to be warmly embraced by fans who have been increasingly using social media sites to discuss and debate sporting events. If successful, it's likely to set a precedent for similar social media centers at future events of all kinds.
"I think a lot of brands will start to see a need for something like this," added Mr. Jackson.
MDG, a full-service Florida advertising agency with offices in Boca Raton and New York, NY, specializes in developing targeted Internet marketing solutions, exceptional creative executions and solid branding and media buying strategies that give clients a competitive advantage. Our core capabilities include print advertising, branding, logo design, creative, digital marketing, media planning and buying, TV and radio advertising, customer relationship management, inbound marketing programs, public relations, Web design and development, email marketing, social media marketing and SEO. View MDG's creative marketing portfolio.
Read more at Mashable.com