#SuperBowl48 by the Numbers: The Top Performing Ads, Tweets, and Hashtags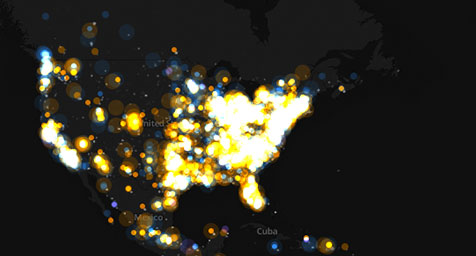 Super Bowl 2014: the pulse of the game on Twitter
Tweets mentioning each #SB48 team and the halftime show on Twitter, February 2, 2014. Eastern time
Sure, everyone had their own personal favorite commercial and tweet from Super Bowl XLVIII, but which brands emerged victorious according to the numbers?
Over the past week, data has been released revealing everything from the most liked ads to the best-performing wireless network at MetLife Stadium (no joke). Here's a recap of some of the most interesting stats:
Television
According this analysis by ExactTarget, 119 commercials aired during the Super Bowl XLVIII broadcast, compared with 126 commercials that aired during that same period the previous year.
Of those 119 commercials, 25 were for FOX programming, compared with 33 the previous year for CBS programming.
For the first time, social hashtags displaced website URLs as the top form of call-to-action in Super Bowl commercials.
According to Ace Metrix, which polled 500 consumers, Microsoft's "Empowering" was the most effective ad of the night, followed by Budweiser's "Puppy Love," Hyundai's "Dad's Sixth Sense," and RadioShack's "Goodbye '80s."
USA Today and Adobe broke down a different data set by demographic and found that Budweiser's "Puppy Love" was the most effective ad with men, women, adults ages 35-54, and adults making $75,000-$100,000 a year. However, among adults ages 18-34 and those making $100,000-$150,000 a year, the ad came in second to Hyundai's spot.
BrandAds polled over 37,000 consumers after the game on how the commercials might affect future buying behavior. The good news is all those millions didn't go to waste: overall, the ads led to a +6.6% bump in intent to purchase—with men showing an even bigger increase than women.
According to the BrandAd analysis, Hyundai's commercial led to the biggest brand lift (+39.5%), followed by Budweiser (+37.8%). Jaguar saw the biggest drop (-31.7%).
Social Media
Twitter says over 24.9 million tweets were sent about the game and the halftime show—and that was just during the broadcast.
ExactTarget dug into the Twitter stats and found the top-mentioned brands during the broadcast were Budweiser (192,527 mentions), JC Penney (120,334), H&M (105,580), and Coca-Cola (95,266).
However, the biggest winner of the night came at the end, when Esurance generated over 1.2 million tweets in an hour with its #EsuranceSave30 hashtag.
One (slightly) comforting fact for the Broncos: The team was mentioned 6,384,933 times on Twitter during the game vs. 4,563,177 Seahawks mentions (this amazing heat map illustrates how the mentions changed through the span of the broadcast).
ExactTarget also found that Bruno Mars's fan base pushed him past the Red Hot Chili Peppers during the halftime show with more than four times the number of social media mentions (2,889,408 vs. 706,198).
Overall, Adobe says Super Bowl advertisers saw a 7x increase in social media mentions compared to their competitors.
Mobile
Verizon says Super Bowl attendees used 1.9TB of data in the stadium during the game—more data in a single hour than at any previous Super Bowl.
However, while Verizon served the most data to attendees, an analysis by Nexgen Wireless found AT&T had the fastest speeds (though also the fewest calls completed).
Stay up-to-date on the latest in TV advertising, mobile, and social media. Contact MDG today at 561-338-7797 or visit www.mdgsolutions.com.
MDG, a full-service advertising agency with offices in Boca Raton and New York, NY, is one of Florida's top branding firms. MDG's capabilities include print advertising, direct mail marketing, branding, logo design, creative, digital marketing, media buying and planning, radio and TV advertising, Web design and development, online video advertising, infographic development, email marketing, mobile marketing, content marketing, social media marketing, and SEO. To learn about the latest trends in advertising and branding, contact MDG today at 561-338-7797 or visit www.mdgsolutions.com.