Take a Trip Through the 16-Year Success of TripAdvisor [Infographic]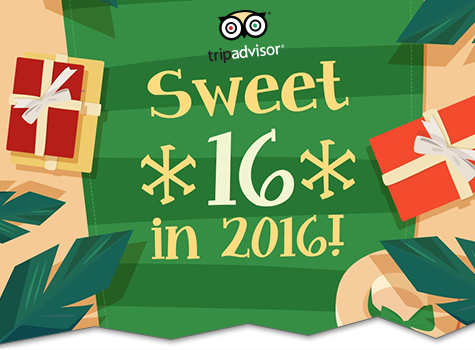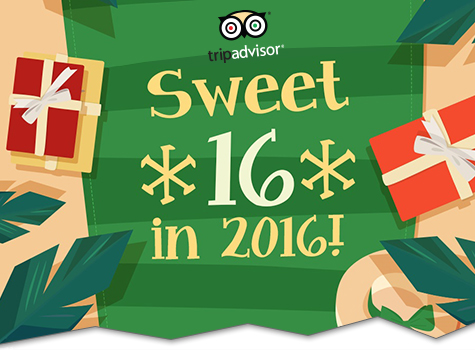 What a trip it's been for TripAdvisor, which is celebrating 16 years of guiding travelers through the vacation-planning process. In this span of time, TripAdvisor has become the world's largest travel website and community. It's become the go-to destination for travelers seeking personal peer travel reviews, user-generated travel content, and real-time price comparisons, along with a fast and easy way to book lodging, flights, and activities. By providing travelers with instant access to all aspects of travel, TripAdvisor has evolved to be very popular worldwide, spanning 47 countries and offering results in 28 languages. For a closer look at TripAdvisor's journey to success, Dublin, Ireland-based SunSearch Holidays created an intriguing infographic called "TripAdvisor Sweet 16 in 2016."
The infographic opens with several little-known facts about TripAdvisor, including:
[jump]
TripAdvisor's owl logo features one green eye to represent the way travelers choose where to go and one red eye to represent where not to go.
There are 1.8 million reviews for the city of London, making it the most-reviewed city on the site.
The country with the highest number of reviews is the U.S.A.
Then, the graphic reveals specifics of the site's operations. Some of the findings include how TripAdvisor's branded websites have more than 350 million unique monthly visitors, as well as how TripAdvisor's 3,000+ employees operate and manage 23 other travel websites and media brands.
And TripAdvisor's huge amount of content lets people take virtual vacations through the website's:
5.3 million businesses and properties.
46 million user-generated photographs.
290 reviews and personal opinions from a world of travelers.
And more…
Finally, the infographic follows the website's major move into mobile. Today, travelers rarely leave home without their smartphones and tablets, which allows them to use these digital devices to browse and book travel at any place and any time. Consider these surprising statistics:
Nearly half of all TripAdvisor users access the site via tablet and phone.
230 million downloads of TripAdvisor's mobile app.
To explore more about TripAdvisor's 16-year travel journey, take a look at the "TripAdvisor Sweet 16 in 2016" infographic by SunSearch Holidays.

Follow the latest in travel marketing. Contact MDG today at 561-338-7797 or visit www.mdgsolutions.com.
MDG, a full-service advertising agency with offices in Boca Raton and New York, NY, is one of Florida's top branding firms. MDG's capabilities include print advertising, direct mail marketing, branding, logo design, creative, media buying and planning, radio and TV advertising, outdoor, newspaper, digital marketing, website design and development, online video advertising, infographic development, email marketing, video marketing, mobile marketing, content marketing, social media marketing, paid search marketing, and SEO. To learn about the latest trends in advertising and branding, contact MDG today at 561-338-7797 or visit www.mdgsolutions.com.