Tap Into The Power Of iPads For Presentations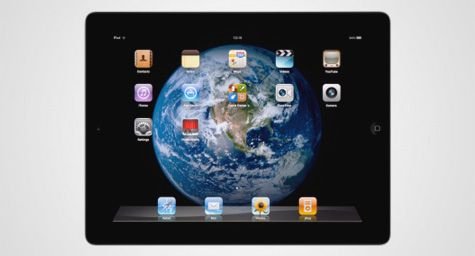 While iPads have quickly changed the way the world enjoys its digital downtime, Apple's interactive gadget is also gaining popularity in the workplace as an engaging and effective presentation tool. Discover how savvy iPad presentation design and creative business application can take your knowledge and make it look good.
While iPads are especially powerful for one-on-one presentations since they allow another viewer to literally tap their way through your ideas, they can also be connected to a projector like a laptop for meetings involving large groups of people. Today, the iPad allows a presentation to be approached as an interface rather than a slideshow, with the ability to instantly alter the order of the slides for each audience member or group of prospects. While there are no exact rules for developing compelling iPad presentations, there are definite ways to use the gadget for greatest effect.
ApolloIdeas.com advises upgrading from dull sales sheets by using the iPad to create dynamic marketing materials featuring stunning visuals and interactive elements. This enables clients to touch their way into each product through vibrant descriptions and rich media. This approach can have incredible impact in a variety of venues, from large boardroom gatherings to one-on-one meetings. It also works wonders in kiosks at tradeshows, allowing you to reach an enormous number of prospects and customize your presentation to each person who approaches.
While iPads could practically replace traditional brochures and marketing collateral, they also can be used to display eye-catching digital materials that enhance your current conventional ones. During your next presentation, the digital experts at Nexxtep Technology Services suggest pulling up a video on your iPad to instantly "wow" your viewers. Simply upload your video to YouTube or Vimeo and bring it up on your iPad at the perfect moment for maximum impact.
Also, don't understate the powerful personal connection that using an iPad can create. There is a certain intimacy associated with touching and choosing something at a personal pace, which can help you strengthen the bond with clients and build relationships with prospects.
Using the iPad can greatly increase the power and success of your presentations and pitches, so make the most of this digital device and make it work for you.
Read more about iPad presentations.
MDG, a full-service Florida advertising agency with offices in Boca Raton and New York, NY, specializes in developing targeted interactive marketing solutions, exceptional creative executions and solid branding and media buying strategies. Our core capabilities include print advertising, branding, logo design, creative, digital marketing, media planning and buying, TV and radio advertising, customer relationship management, loyalty programs, public relations, Web design and development, email marketing, social media marketing and SEO. View MDG's creative marketing portfolio.
Connect with MDG on Facebook, Twitter and YouTube