Tap Into the Top 10 Apps of Millennials and Teens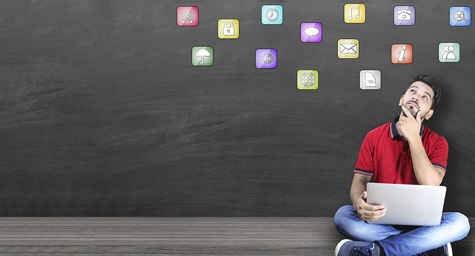 Today's teens and Millennials answer to their smartphones. A recent survey showed that 89% of 13 to 33 year olds own a smartphone and 55% say they can't live without them. These young adults clearly can't bear to have their smartphones out of sight since they check them around 13 times an hour. Perhaps that's because 43% said that their social lives depended on these devices. And when their sights are set on their smartphones, which apps trap their attention? MediaPost.com asked these young adults to name their favorite apps, and then compiled a listed of the apps that they approve and appreciate most.
Top 10 Apps Appealing to Teens & Millennials
Instagram
Facebook
Snapchat
Twitter
Google app
Tumblr
Spotify
Weather app
WhatsApp
YouTube
It appears that Facebook gets a lot of face time with young adults since they control the top two apps on the list, Instagram and Facebook.
Instagram claimed the top spot because of its visual value. Respondents love how it lets them find photos that pique their interest, connect with others through pictures, and sneak a peek into people's lives. Some even said that Instagram's focus on photos encouraged them to start taking pictures more often.
Facebook followed in second place, with most respondents liking the app for the way it connects them to family and friends.
Not surprisingly, the other eight apps on the list also provide a sense of community, connection, and access that clearly appeals to these young adults. Most are social and chat-centric platforms that keep them close to the people they care about, no matter their distance or differences.
Interestingly, the only non-social apps that appeared on the list were Google apps. Their favorites included Google Maps and Gmail. Some may say that these Google apps are indirectly social because they either lead to gathering spots or let users communicate with others.
By knowing which apps teens and Millennials favor, marketers can see just where to look to capture this app-loving audience.
Discover digital marketing strategies for success. Contact MDG today at 561-338-7797, or visit www.mdgsolutions.com.
MDG, a full-service advertising agency with offices in Boca Raton and New York, NY, is one of Florida's top branding firms. MDG's capabilities include print advertising, direct mail marketing, branding, logo design, creative, digital marketing, media buying and planning, radio and TV advertising, website design and development, online video advertising, infographic development, email marketing, content marketing, inbound marketing, lead generation, social media marketing, and SEO. For the latest trends in advertising and branding, contact MDG today at 561-338-7797 or visit www.mdgsolutions.com.