Target and Purina Plan to Play Games with Consumers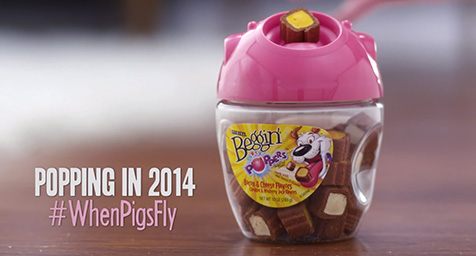 You don't have to look any further than the recent buzz of "Flappy Bird" to know that mobile games have captured the hearts, imaginations and, yes, the thumbs of consumers worldwide. Research reveals that games consume more time than any other interaction on mobile devices. According to an Advertising Age article, retail giant Target is set to capitalize on this trend by launching its own mobile games.
Noting that two-thirds of its customers have smartphones, Target is working in conjunction with brand partners such as Purina to develop games tied to products and events. On March 1, Target launched "Pop It!" with Purina's Beggin' brand. The game features Purina's new dog treat, Beggin' Party Poppers, along with the brand's unique pig's head canister that enables dog owners to "pop" treats into the air.
The game showcases the canister and the fun of it all, allowing viewers to launch virtual dog treats by navigating a moving conveyor belt. Christi Maginn, director of shopper marketing for Purina PetCare, pointed out that the game is "challenging enough to be worthy of repeat plays, but simple enough for anyone in the family to enjoy."
Target plans to measure consumer interaction and enjoyment of the game the same way it has for a previous release, "Snack Bowl." The game, tied to the Super Bowl, recorded a 50% replay rate.
The mobile game category is certain to increase in popularity as more and more consumers buy smartphones and tablets. Target may be one of the first to explore the potential of branded games, but it's likely that other brands and products will soon join the rush to harness the brand-building potential of this growing phenomenon.
Mobilize your brand's mobile marketing efforts. Contact MDG today at 561-338-7797 or visit www.mdgsolutions.com.
MDG, a full-service advertising agency with offices in Boca Raton and New York, NY, is one of Florida's top branding firms. MDG's capabilities include print advertising, direct mail marketing, branding, logo design, creative, digital marketing, media buying and planning, radio and TV advertising, Web design and development, online video advertising, infographic development, email marketing, mobile marketing, content marketing, social media marketing, and SEO. To learn about the latest trends in advertising and branding, contact MDG today at 561-338-7797 or visit www.mdgsolutions.com.