Television-Viewing Gap is Driven by Devices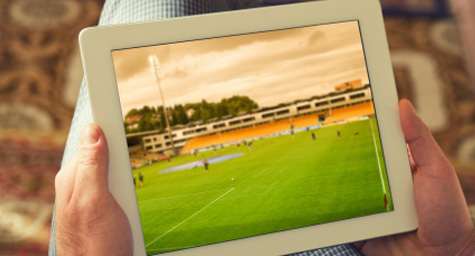 Today's television-viewing habits are divided among demographics, with people under age 35 watching less and those over 35 tuning in more than previous years, according to recent Nielsen research. The New York Times reported on the reasons behind these TV trends.
It appears that devices are making the difference in our TV viewing habits. While younger people are watching the same shows as their elders, they're more likely to stream them on mobile phones, tablets, and computers than watch them on traditional televisions. With the growing number of television alternatives, from online videos to mobile devices, today's youth has numerous new media vying for their time and attention.
This move toward new media has been expected for some time, but the Nielsen research is the first credible evidence of the shift. Analysts predict that the effects of this trend could be enormous and may eventually drive billions of annual advertising dollars away from conventional television.
Media executives admit that there's been a drop in viewing among those under 35 over the last three quarters, but they say there's no need to panic, since this hasn't had a major impact on the ratings for various channels and TV continues to be a leading medium among other demographics. Still, they're closely monitoring youth viewing behavior to see how their habits progress.
While children today see no difference in watching shows on television or on alternate viewing devices, Nielsen counts computer and mobile streams of shows separately, which makes it more difficult to get a realistic view of our changing habits. As a result, the television industry is pushing for a way to measure online and mobile viewing as reliably as television viewing activity.
For now, the decrease in TV viewing among younger demographics is causing media executives to reevaluate and revise their media strategies.
"This is why we're incorporating more digital and online video," said Billie Gold, the director of programming research for Carat USA, an ad-buying agency. "We know it's a place to replace some of the young audience that is leaving television."
At MDG, our 360° marketing approach uses just the right mix of traditional and online media for your brand. While some industries may fare better on TV and others online, we strive to create a balanced approach to media planning where digital and traditional marketing efforts support each other and your message is tailored to the medium. If you're interested in implementing a digital media strategy that will expose your brand to a new demographic and increase sales, contact MDG today at 561-338-7797 or visit www.mdgsolutions.com.
MDG, a full-service Florida advertising agency with offices in Boca Raton and New York, NY, specializes in developing targeted Internet marketing solutions, exceptional creative executions and solid branding and media buying strategies that give clients a competitive advantage. Our core capabilities include  branding, logo design, digital marketing, media planning and buying, TV and radio advertising, customer relationship management, video marketing strategies, inbound marketing programs, public relations, Web design and development, email marketing, infographic design, social media marketing, local search and SEO. View MDG's creative marketing portfolio.
Read more at the NYTimes.com.