Thanksgiving Breaks Instagram Records—Over 10 Million Photos Shared at a Rate of 226 per Second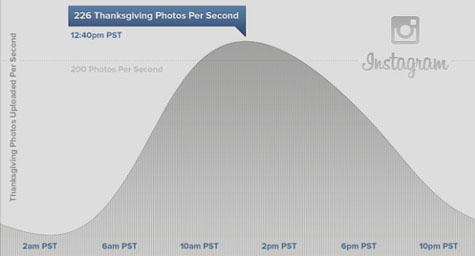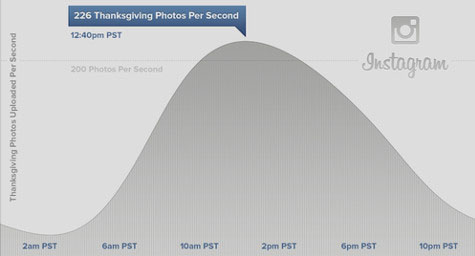 Instagram had a new record to be grateful for this Thanksgiving. The fast-growing mobile photo-sharing app saw its users post more than 200 holiday-related photos every second for several hours on Thanksgiving Day for a total of more than 10 million photos. The record-breaking moment occurred at 12:40 PM PST as the posting pace rose to 226 photos shared per second. TheNextWeb.com reported on how Thanksgiving shattered all Instagram records to become the busiest day that the photo-sharing app has ever experienced.
Instagram averages 5 million photo uploads a day, which means that Thanksgiving delivered more than twice the usual traffic for the social media site. The popularity of online photo sharing has sparked enormous momentum for Instagram. This was one of the primary reasons that Facebook purchased the company this past September for $715 million in cash and stock. Since this acquisition by the social networking giant, Instagram has seen its traffic soar as Facebook continues to nurture the growth of the app.
Looking forward, users can expect to see more of Facebook's effects on the app as Instagram undergoes a complete redesign of its profile pages and explores ways to monetize its services.
To discover the latest ways to leverage Facebook and Instagram in your social media marketing strategy, contact MDG.
MDG, a full-service traditional and digital marketing agency with offices in Boca Raton, FL and New York, NY, specializes in developing targeted Internet marketing solutions, exceptional creative executions and solid branding and media buying strategies that give clients a competitive advantage. Our core capabilities include branding, logo design, creative, digital marketing, print advertising, direct mail marketing, media planning and buying, TV and radio, video, digital marketing, Web design and development, email marketing, social media marketing, search marketing, and search engine optimization (SEO).

Read more at TheNextWeb.com.