The 10 Best Real-Time Brand Tweets of 2014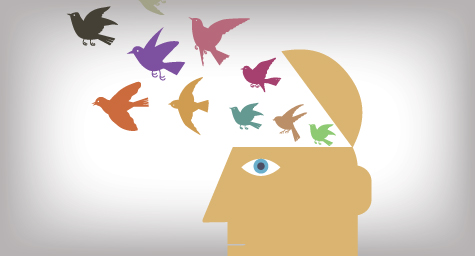 Crafting a great tweet—one that is both engaging and on-brand—can be difficult even when you've got plenty of time. Haven't we all spent far too long agonizing over choosing exactly the right photo? Or how to use each of those 140 characters to full effect?
Tweeting with little time to spare, when you are trying to capture interest around a current topic or live event, is even harder. In these moments you're expected to be both pithy and perfect, casual and in-control.
Amazingly, a number of brands manage to navigate these tricky waters every day. Sometimes because of good planning, and sometimes because of serendipitous timing, they capture the mood of a moment perfectly, leading to a flood of favorites, replies, and retweets.
In 2014, there were thousands of examples of real-time Twitter wins by brands. However, a few stood out for being both very smart and very successful. Here are our 10 favorites, in no particular order.
1. Kit-Kat: We Don't Bend, We Break
When photos started flying around the Internet of new iPhone 6 devices getting slightly warped after being put in pockets, #Bendgate took over Twitter. Many brands tried to capitalize on the moment, but Kit-Kat got the biggest response by simply showing that bending (and breaking) isn't always so bad.
We don't bend, we #break. #bendgate #iPhone6plus pic.twitter.com/uippCg4kCi

— KITKAT (@KITKAT) September 24, 2014
2. Arby's: Pharrell, We Want Our Hat Back
The biggest splash at this year's Grammys was probably made by singer Pharrell's hat, which set social media abuzz. Someone at Arby's smartly noticed that the hat bore a striking resemblance to the company's logo and scored big by asking a simple question.
Hey @Pharrell, can we have our hat back? #GRAMMYs

— Arby's (@Arbys) January 27, 2014
3. Omaha: We Appreciate the Love, Peyton Manning
During an NFL playoff game in January, Denver Broncos QB Peyton Manning got a lot of ribbing for his seemingly endless shouting of "Omaha! Omaha!" before getting the ball snapped. The Omaha tourism bureau took a different tack, simply thanking Manning for all the love.
We certainly appreciate all the love from #PeytonManning :) #OmahaOmaha

— Official Omaha Info (@VisitOmaha) January 12, 2014
4. DiGiorno's Pizza: #DiGiorNOYOUDIDNT
Being comically belligerent on social media can be tricky for brands, with messages often falling flat unless the tone is spot-on. During the Super Bowl, DiGiorno's managed to walk the line perfectly, coming across as both a wiseguy and funny.
YO, THIS GAME IS LIKE A DIGIORNO PIZZA BECAUSE IT WAS DONE AFTER TWENTY MINUTES #SuperBowI #SuperSmack #DiGiorNOYOUDIDNT

— DiGiorno Pizza (@DiGiornoPizza) February 3, 2014
5. Snickers: More Satisfying Than Italian
When Uruguayan striker Luis Suarez bit Italian defender Giorgio Chiellini during a World Cup men's soccer match this summer, people around the globe were shocked and horrified. Snickers was clever enough to quickly find some humor in the moment, leading to a big burst of engagement.
Hey @luis16suarez. Next time you're hungry just grab a Snickers. #worldcup #luissuarez #EatASNICKERS pic.twitter.com/3RAO537HjW

— SNICKERS® (@SNICKERS) June 24, 2014
6. The Metropolitan Museum: #BreakTheInternet
Kim Kardashian's provocative Paper magazine photo spread this fall, which showcased her famous derriere (as well as many other body parts), was accompanied by a claim that it would "break the Internet." The Metropolitan Museum of Art in New York capitalized on the moment by slyly showing that booties have been big for a long, long time before Kim.
Here at the Met, we have artworks that can #BreakTheInternet too! On view in gallery 150: http://t.co/ucjZ8mimuD pic.twitter.com/xevfttmHg8

— metmuseum (@metmuseum) November 13, 2014
7. Caress: Remixed Selfies
In the lead up to this year's MTV VMAs, Caress asked people to send in selfies and said it would "remix" some during the show. That night a few lucky winners got tweets from the brand with their images redone by artists—smartly reinforcing the brand's #AmpUpYourStyle message.
SURPRISE @rhiannonicole81 ! We had @shantell_martin remix your #VMA-fab selfie! Thx for entering <3 #AmpUpYourStyle pic.twitter.com/GUkKRzrZOk

— Caress (@Caress) August 25, 2014
8. Nike: It's History
You don't always have to be witty to capitalize on a moment. Nike had a big win at the end of the World Series by simply sending out a good photo and a nice message. The tweet was short, classy, and successful.
Call it destiny or call it a dynasty. Either way, it's history. #justdoit pic.twitter.com/CoGieQskye

— Nike Baseball (@nikebaseball) October 30, 2014
9. Netflix: Frank Underwood in the House!
Netflix's Oscars tweet is another example of a simple success. When Kevin Spacey presented in character as Frank Underwood, his House of Cards role, the brand honored the moment by simply calling it out.
Frank Underwood in the house! #Oscars

— Netflix US (@netflix) March 3, 2014
10. Oscars/Samsung: Ellen's Epic Selfie
Finally, the Oscars' Twitter account and Samsung probably had the biggest real-time success of the year with Ellen's epic selfie. The photo became the most retweeted of all time as well as the most favorited. Having all those stars and a big platform to ask for shares clearly drove the massive response, but the success was also partly due to some very, very smart planning.
If only Bradley's arm was longer. Best photo ever. #oscars pic.twitter.com/C9U5NOtGap

— Ellen DeGeneres (@TheEllenShow) March 3, 2014
Get updates on what's up and coming on social media. Contact MDG.
MDG, a full-service advertising agency with offices in Boca Raton and New York, NY, is one of Florida's top branding firms. MDG's capabilities include print advertising, direct mail marketing, branding, logo design, creative, digital marketing, media buying and planning, radio and TV advertising, Web design and development, online video advertising, infographic development, email marketing, mobile marketing, content marketing, social media marketing, paid search marketing, and SEO. To learn about the latest trends in advertising and branding, contact MDG.