The 13 Scariest Social Media Fails by Brands this Year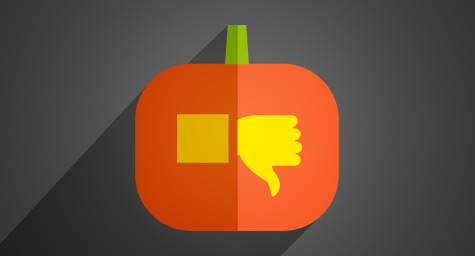 Social media is usually a valuable channel that allows businesses to engage with consumers in powerful ways. However, sometimes marketers do make mistakes—especially when their social media accounts are handled by inexperienced staff members.
In honor of the scariest time of year, we've pulled together some of the most ghoulish social media fails by brands in 2014. Some of these mistakes were due to simple blunders and bad timing, while others showed a spine-chilling lack of thought and supervision.
Below, 13 of the worst fails of the year, with a few devilish details, in no particular order. Read on…if you dare.
13. VH1's "#AskThicke"
#AskThicke Robin, other than being a misogynist what are your hobbies? Soccer? Racism? Crazy Golf?

— Dean Smith (@deansmith7) July 1, 2014
When VH1 asked the Internet to pose interview questions to Robin Thicke, things went off track quickly. The Twitterverse used the opportunity to mock the singer about his lyrics (which are seen by many as being misogynistic), his seemingly cheating ways, and much more.
12. Florida State's #AskJameis
Maybe the Tallahassee police can hop on #AskJameis and finally question him.

— Clay Travis (@ClayTravisBGID) August 10, 2014
As with #AskThicke, the #AskJameis debacle shows what can happen when an organization doesn't anticipate the potential backlash that can build around a hashtag. Florida State simply thought it was soliciting questions for a video about the football team—instead the school was flooded with comments about quarterback Jameis Winston's troubling off-field issues.
11. American Apparel's Challenger Photo
To celebrate the July 4th holiday, American Apparel posted a stylized image of the space shuttle Challenger coming apart in the sky to its Tumblr page. The company said this happened because its social media manager was born after the tragedy and thought the photo was of fireworks—a plausible explanation but still a painful mistake.
10. US Airways' NSFW Post
We apologize for an inappropriate image recently shared as a link in one of our responses. We've removed the tweet and are investigating.

— US Airways (@USAirways) April 14, 2014
In April, US Airways replied to a tweet and accidentally included a link to an extremely graphic image. In a statement explaining the incident, the company said it had meant to "flag [the photo] as inappropriate," not tweet it, but that it was somehow "inadvertently included in a response to a customer." Ouch.
9. Union Street Guest House's Guest Fines
How do you prevent bad online reviews? The Union Street Guest House, a hotel in Hudson, New York, thought it had found a way: brides and grooms were told that they'd be fined $500 for every negative comment left on any website by any of their wedding guests. The move backfired, of course, and the company was forced to play it off as a joke.
8. The Georgian House Hotel's Brutal Honesty
Sometimes honesty is not the best policy. A Scottish hotel manager took to TripAdvisor to respond to negative reviews earlier this year, and his brutal forthrightness shocked many (one example: "Thanks for your money, sucker. Long may the idiot line continue."). Not surprisingly, he was later fired.
7. Global Village Duluth's Black Sale
Post by Global Village Duluth.
The Global Village Duluth store in Minnesota found itself in hot water this Martin Luther King, Jr. Day after it advertised a special sale with "25% off everything black." The Facebook post sparked a flood of back-and-forth comments, with one user noting: "Some people on here might genuinely not understand why this is offensive. Using the word 'black' in general is not the issue. It's how it's used. Black people were, not very long ago, sold as property in this country."
6. Fleshlight's 9/11 Post
Sometimes a brand can get in trouble on social media without actually doing much wrong. This year on September 11, Fleshlight tweeted a simple message: "Today is 13th anniversary of 9/11. We remember those lost, & honor those still fighting for freedom." The problem is that Fleshlight is a sex toy company, and the tweet from that particular brand felt uncomfortable for many.
5. Stone Brewing Co.'s Memorial Day Miss
Something to remember on #MemorialDay. It's a LOT better and a LOT more memorable with #craftbeer! http://t.co/qkeIVCK1JE

— Stone Brewing Co. (@StoneBrewingCo) May 26, 2014
In another case of not approaching an important day with the right tone, the Stone Brewing Co., based in Escondido, CA, seemed to forget that there is much more to remember on Memorial Day than simply beer.
4. KLM's World Cup Penalty
It's Adios Amigo to @KLM's Adios Amigos tweet. The company has now deleted it pic.twitter.com/9KsEsNBKGe

— Danny Sullivan (@dannysullivan) June 29, 2014
Following a Netherlands win over Mexico during the men's soccer World Cup this summer, Dutch airline KLM engaged in a little friendly ribbing and tweeted out the message "Adios Amigos! #NEDMEX" accompanied by an airport sign depicting a man wearing a sombrero. The message was pulled an hour later after the company received a flood of responses from offended consumers.
3. DHL's Formula 1 Fail
In October, Formula 1 driver Jules Bianchi landed in intensive care after a bad crash on the course. How did DHL respond? By posting this to Facebook: "Ghastly accident in Japan. Jules Bianchi is fighting for his life. By clicking 'Like' on this occasion, you'll be sending Jules your best wishes for a speedy recovery." There are times to ask people to like your brand page on Facebook; this was not one of those times.
2. Volvo's MH370 Mishap
When Malaysia Airlines flight MH370 went missing, Volvo took to Sina Weibo, the social messaging network hugely popular in China, and posted this message: "'The rescue operation for the missing Malaysia Airlines MH370 plane is in full swing. Passenger safety is also a top priority at Volvo Cars, let's pray together for the 239 lives…" Not surprisingly, the clumsy attempt to link the tragedy to a brand message fell flat and angered a large audience.
1. DiGiorno's #WhyIStayed
Finally, here is a tale for those who now feel frightened of ever posting to social media again.
When the #WhyIStayed hashtag about domestic abuse took off on Twitter, DiGiorno jumped on the trending tag and tweeted: "#WhyIStayed You had pizza."
There was an immediate outcry and the tweet was deleted, followed by this message: "A million apologies. Did not read what the hashtag was about before posting."
However, the company's contrition didn't end there. The person handling the DiGiorno Twitter account spent hours publicly apologizing to as many people as possible, making sure to personalize every single message. The move didn't fully stop the criticism, but it softened the reaction and made people remember a simple fact: Everyone makes mistakes; it's how you handle what comes next that matters most.
Lol poor @DiGiornoPizza social media guy apologizes to every single twitter user individually for saying this.. pic.twitter.com/S7acUsB51N

— Swallow (@SwallowRedux) September 9, 2014
Learn more about the power of social media. Contact MDG today at 561-338-7797 or visit www.mdgsolutions.com.
MDG is a full-service advertising agency and one of Florida's top branding firms. With offices in Boca Raton and New York City, MDG's core capabilities include branding, logo design, print advertising, digital marketing, mobile advertising, email marketing, media planning and buying, TV and radio, outdoor advertising, newspaper, video marketing, Web design and development, content marketing, social media marketing, and SEO. To discover the latest trends in advertising and branding, contact MDG today at 561-338-7797.