The 7 Best Holiday Social Posts from Brands (So Far)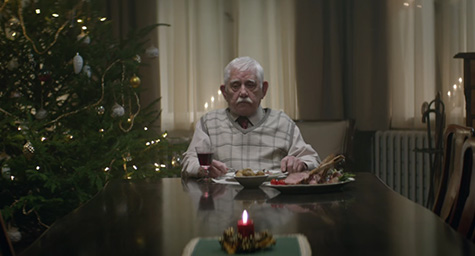 Industrious elves at brands around the world have been hard at work building merry content, and these digital delights are now filling consumers' news feeds.
Below are seven of our favorite posts so far from marketers. They range widely in format and approach, but all do a good job of feeling fresh while also capturing the spirit of the season.
1. EDEKA: Weihnachtsclip
The German supermarket chain struck viral gold with this moving short featuring a lonely old man and his family. The video already has tens of millions of views on YouTube, with hundreds of thousands being added each day.
What's the big deal? Just watch (and keep some tissues handy):

2. Oreo: Have a Wonderfilled Holiday
For many people, the holidays are a time of stress as well as joy. All the travel, cooking, planning, shopping, and family time means a million little (and big) things can go wrong.
This animated video from Oreo shows that there's often beauty in these seemingly bad moments. It's a simple, but much-needed, little reminder.
Don't let a broken ornament shatter your holiday spirit! Stay festive and have a #Wonderfilled#Holidayhttps://t.co/7aVIzKcsr2

— Oreo Cookie (@Oreo) November 27, 2015
3. Alex and Ani: DIY Menorah
Alex and Ani give Hanukkah a modern makeover with this eye-catching post. The standard menorah is replaced by a DIY candle setup that perfectly balances originality and respecting tradition.
Get creative this #Hanukkah. Follow our #DIY Menorah guide and add flare to your holiday > https://t.co/IpbSo1rHes pic.twitter.com/dbecpzkqRQ — Alex and Ani (@alexandani) December 2, 2015

4. American Eagle: First Holiday with Bae This Instagram post from American Eagle shows that sometimes all you need for social success is a beautiful couple in a beautiful setting doing their best to look beautiful. Of course, a little fake snow, and a good caption, also help.
First holiday with bae? Find great gifts for EVERYONE on your list at AE.com. #AEOSTYLE #AEOGIFTS A photo posted by American Eagle (@americaneagle) on

5. Get Out There Magazine: Festivus Giveaway
Fear not Festivus revelers, marketers have not forgotten about you. This campaign from Get Out There mag celebrates Seinfeld's not-real-but-now-sort-of-real holiday with a 12-day gear giveaway that's both fun and simple to enter.
Last chance to enter today's #Festivus #giveaway from @Columbia1938 valued at $800+! https://t.co/nn2K0yqk3d pic.twitter.com/aA3CSG5nwY

— Get Out There Mag (@GetOutThere) December 3, 2015

6. Sainsbury's: 2015 Christmas Advertisement
What do you get when you create an epic short video featuring a bumbling cat that's left alone in the house during the holidays? Pure Internet gold:

7. Berkeley Dog Beds: Chilled Out Dog
Finally, a reminder that you don't need a ton of time and a huge budget to create successful holiday content. Berkeley Dog Beds simply added a #Christmas hashtag to this photo and turned it into a perfect (and very Zen) seasonal post that resonated with consumers on social media.
For a chilled out dog this #Christmas buy him a really great dog bed! https://t.co/drWHgauO7h #woofwoofwednesday pic.twitter.com/rKYCjyyfuo

— BerkeleyDogBeds (@BerkeleyDogBeds) December 2, 2015
Boost your holiday marketing results with smart social media tactics. Contact MDG today at 561-338-7797 or visit www.mdgsolutions.com.
MDG, a full-service advertising agency with offices in Boca Raton and New York, NY, is one of Florida's top branding firms. MDG's capabilities include print advertising, direct mail marketing, branding, logo design, creative, digital marketing, media buying and planning, radio and TV advertising, website design and development, online video advertising, infographic development, email marketing, mobile marketing, inbound marketing, content marketing, social media marketing, paid search marketing, and SEO. To learn about the latest trends in advertising and branding, contact MDG today at 561-338-7797 or visit www.mdgsolutions.com.