The 7 Best Social Media Campaigns of 2014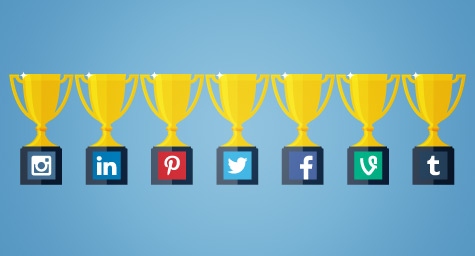 Which brands won on social media in 2014?
This year seemed to bring more successes than in the past, with companies of all sizes and across a wide-range of industries finding powerful ways to connect with customers on social networks.
Part of this progress may be due to familiarity—we marketers are increasingly learning what works and what doesn't—and part of it may be due to the host of new tools (video, integrated campaigns, etc.) that the major platforms rolled out.
In 2014 there were countless little successes around real-time events that we'll cover in another post. This list highlights a few of the broader campaigns—run over days, weeks, months, or even years—that both broke new ground and were a hit with the target audience.
Here, then, are our picks for the best social campaigns of 2014 for each major social network:
Twitter: Travelocity – #IWannaGo
This campaign, which ran in the spring, was a huge hit for the Travelocity. It launched a new Twitter account (@roaminggnome) that quickly gained a big following and sparked tens of thousands of online conversations around a unified hashtag (#IWannaGo).
Moreover, during the first six weeks of the campaign, Travelocity increased purchase consideration by 11% for key consumers.
The secret to success? The company made engaging easy. To enter the contest, people just had to follow the account and use the hashtag. Short, simple, and effective.
Ok here's the plan. YOU tweet me your dream destination with #iWannaGo and win a free trip. I'll do this: pic.twitter.com/7a58wziMHh

— Travelocity Gnome (@RoamingGnome) April 21, 2014
Vine: Best Buy – HackToSchool
Best Buy's "HackToSchool" campaign was a brilliant use of the medium.
Using well-filmed time-lapse videos, the company showcased a series of life hacks, such as how to make speakers out of plastic cups; how to cook rice in a coffee pot; and how to organize your headphone wires using a plastic card.
The tips were smartly targeted at college-age consumers (who tend to buy more electronics) and showed that you truly can tell a story in six seconds.
Facebook: GoPro – Video of the Day
One of the biggest evolutions of 2014 in social media was that Facebook became a video platform. Whereas in the past, video on the network was mainly third-party links, this year it became truly native—with both uploading and viewing becoming much easier.
No company took better advantage of this change than GoPro. The company's page has garnered 8.1 million Likes by showcasing one user-generated video each day, filmed using its cameras.
That may sound simple, but the success lies in the execution. The brand picks a great mix of videos—from trips, concerts, parties, and more—that are beautiful and engaging. Consumers feel naturally compelled to watch and share, making the content feel very authentic.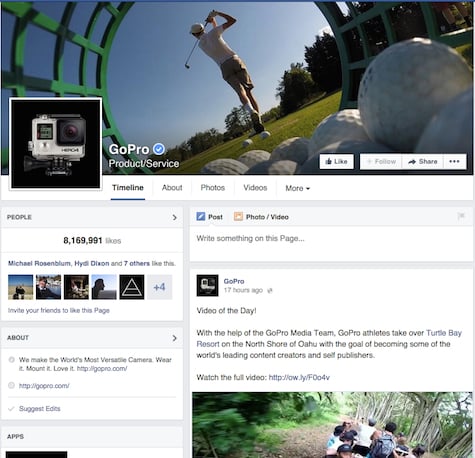 Instagram: Nike – #justdoit
Nike is absolutely killing it on Instagram. Data from Totems shows the company as having 8.2 million followers and 34.2 million uses of its hashtag—more than twice as many the next most-popular brand (Starbucks).
Having access to some of the world's best athletes surely helps, but the company is also successful because it is extremely savvy with each Instagram post.
The photography used is always interesting, with a good use of filters, and there is usually an inspirational message accompanying each image. Moreover, the timeless "#justdoit" is used in almost every message, allowing for continuity in a world of ever-changing hashtags.
Pinterest: Whole Foods – Seasonal Boards
Things like recipes are clearly a hit on Pinterest, but what can a brand do to spark interest in these offerings when there isn't a holiday/event to rally interest around?
Whole Foods solved this problem brilliantly with its seasonal boards on the platform. Each board (Spring Gatherings, Savoring Summer, The Fabulousness of Fall) pulled together recipes and guides (Marvelous Mushrooms!) into a deep, lush hub.
The ingredients listed could, of course, be bought at Whole Foods, but the campaign was successful because it also managed to clearly convey important brand attributes (healthy, well-sourced, high-quality, etc.)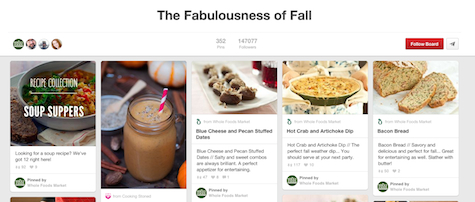 LinkedIn: IBM – Made with IBM
IBM recently reached a milestone of 2 million followers on LinkedIn. How'd they do it? By creating something compelling.
The company's LinkedIn page, which was unified under the "Made with IBM" theme, became a rich, frequently updated hub for information this year. Some of the things on the page were about IBM—its products and corporate moves—but many were not.
The page showcased infographics, videos, articles, and quotes galore about everything from social media to cloud computing. Everything felt like it was chosen by experts to help educate and inform—in other words, it was truly useful.
Tumblr: Tiffany & Co. – Tiffany T
Social media can be a tricky thing for high-end companies. On one hand, the channel is a powerful way to connect with consumers. On the other, it can sometimes be difficult to convey quality and luxury within the confines of a short post.
This fall, Tiffany & Co. showed that it's possible for a brand to be both engaging and beautiful on social networks with its series of "Tiffany T" posts on Tumblr.
The pieces, which were created to showcase a new collection of jewelry, used illustrations, video, and photography to lushly highlight designers and their designs. The key is that everything surrounding the posts was also pitch-perfect, from the colors to the fonts, so that the entire experience felt rich and on-brand.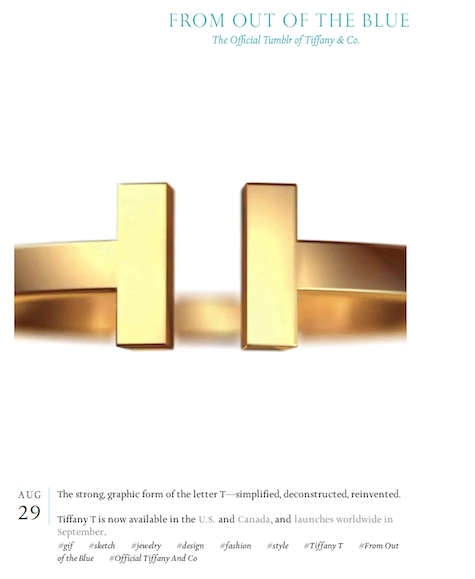 Leverage social media marketing and boost your brand's bottom line. Contact MDG today at 561-338-7797 or visit www.mdgsolutions.com.
MDG is a full-service advertising agency and one of Florida's top branding firms. With offices in Boca Raton and New York City, MDG's core capabilities include branding, logo design, print advertising, digital marketing, mobile marketing, email marketing, media planning and buying, TV and radio, outdoor advertising, newspaper, video marketing, Web design and development, content marketing, mobile marketing, social media marketing, and SEO. To discover the latest trends in branding and advertising, contact MDG today at 561-338-7797.