The Best Days to Post on Facebook and Tweet on Twitter
Which days do brands post most often to Facebook and tweet on Twitter? Which days are best for driving engagement such as Likes, comments, and retweets?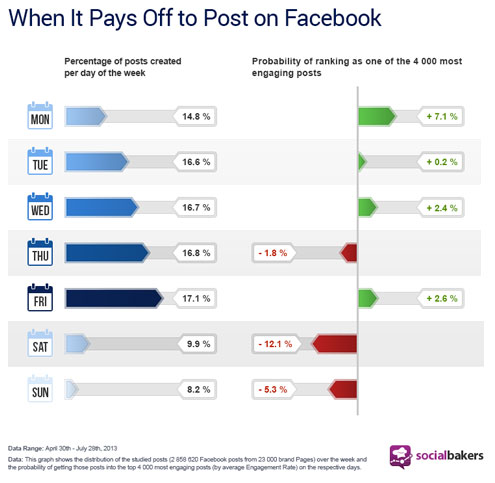 Socialbakers recently tackled these questions in a series of blog posts. In its Facebook analysis, the company examined over 2 million updates from 23,000 brand pages posted between April 30 and July 28. It found that page admins for brands prefer to post between Tuesday and Friday, and they often disregard Saturday and Sunday.
However, Facebook posts on Mondays were found to have the greatest chance of ranking in the top 4,000 most-engaging posts of that day, followed by Wednesdays and Fridays.
Weekends didn't work out as well for the studied brands, with Facebook updates put up on both Saturdays and Sundays showing slim chance of ranking in the list of most-engaging posts for those days.

In contrast, Socialbakers' Twitter analysis, which examined the 1,000 most- engaging tweets between April 1 and July 2, found that Fridays had the largest quantity of engaging tweets and Saturdays had the highest relative engagement rate (engagement proportionate to the number of tweets).
Does this mean that all brands should tweet on Saturdays and post to Facebook on Mondays? Not necessarily. Engagement on social networks varies widely based on topic, target demographics, seasonal trends, and many other factors.
Nonetheless, the analysis is a good reminder that customers use different social networks in different ways, and that posting when there is less competition from other brands can sometimes lead to more engagement.
Keep up with the latest trends in social media marketing. Contact MDG today at 561-338-7797 or visit www.mdgsolutions.com.
MDG, with offices in Boca Raton and New York, NY, is a full-service advertising agency and one of Florida's top creative ad agencies. MDG's core capabilities include print advertising, branding, logo design, creative, digital marketing, creative media planning and buying, radio and TV advertising, Web design and development, email marketing, social media marketing, and SEO. For the latest on Twitter and social media marketing trends, contact MDG today at 561-338-7797 or visit www.mdgsolutions.com. To discover the best times to post on Instagram, which is rapidly rising to the heights of Facebook and Twitter, take a look at "A Snapshot of the Best Times to Post on Instagram."