The Birth Of A Human-Centric Marketing Approach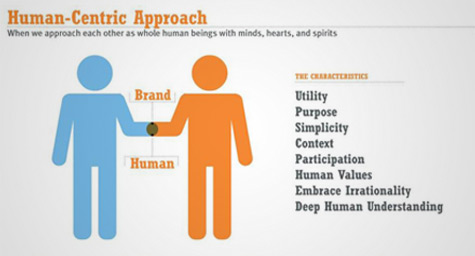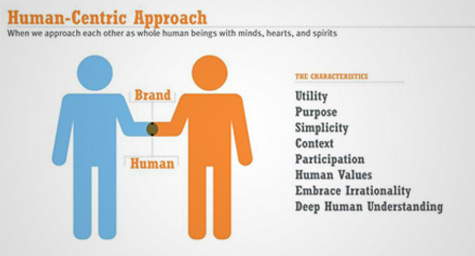 Image copyright One to One Global.
The traditional customer-centric approach to marketing has evolved into an inspired human-centric paradigm. This new approach views consumers as interactive communicators with highly personal views, with its success rate gauged by the strength of the customer relationship. This is in sharp contrast to the fading customer-centric approach that viewed consumers as passive participants and measured success by the amount of merchandise sold. Jeremi Karnell, president and chief marketing officer of One to One Global, examined this emerging marketing trend and discussed the human-centric highlights.
"Human-centric marketing is defined by brands that approach engaging their current and prospective customers via advertising and marketing tactics as whole human beings with hearts, minds, and spirits," said Philip Kotler, author of more than 20 marketing books.
The emergence of human-centric marketing can be attributed to the many societal, economic, cultural and technological changes over the last decade. While the consumer-centric approach was a result of corporate dominance and information technology, human-centric marketing is being led by the personal desire to form interactive connections and build meaningful relationships.
Today, we place greater value on creativity and personal expression, which has led to a new "creative class" comprised of 38 million Americans and more than 30 percent of the nation's workforce. These creative workers are dedicated to using their ingenuity to solve the problems of the 21st century. This emphasis on creativity in the business world is affecting the way that companies communicate with their customers and fueling this human-centric marketing direction.
With this new marketing methodology, the focus is on human values rather corporate values, as well as getting consumers involved rather than just telling them what to do. Most importantly, it's about treating consumers like real people rather than nameless numbers and showing that you want to connect on a human level.
Read more about the human-centric approach to marketing.
MDG, a full-service Florida advertising agency with offices in Boca Raton and New York, NY, specializes in developing targeted interactive marketing solutions, exceptional creative executions and solid branding and media buying strategies. Our core capabilities include print advertising, branding, logo design, creative, digital marketing, media planning and buying, TV and radio advertising, customer relationship management, loyalty programs, public relations, Web design and development, email marketing, social media marketing and SEO. View MDG's creative marketing portfolio.