The Brands With the Top Relationship Quality on Facebook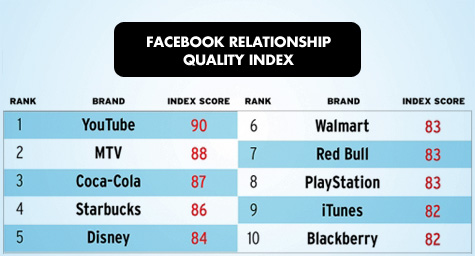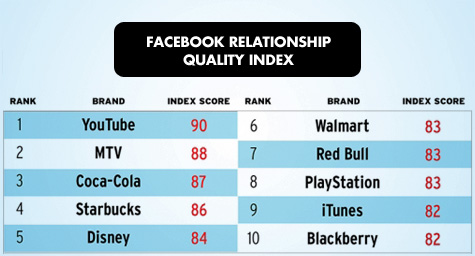 Fathom Analytics has created a Relationship Quality Index (RQI) that ranks brands based on their relationship with Facebook fans. The ranking is determined by four factors that get equal weight, including the brand page's number of fans, their fan-building momentum, level of fan engagement. and the amount of fan emotion. AdAge.com reported on which brands measure up.
According to the RQI, the top brand is YouTube, followed by MTV, Coca-Cola, Starbucks and Disney. The remainder in the top 10 are Walmart, Red Bull, Playstation, iTunes, and Blackberry.
While measuring some of the RQI factors was relatively straightforward, such as a brand's number of Facebook fans, other factors required more creative means of measure. Determining the amount of fan emotion led Fathom Analytics to recruit a semantic analysis system used by the Department of Homeland Security that can track and monitor emotional sentiment on the Web. This technology has the ability to decipher levels of emotional interest and loyalty for certain brands.
Building relationships with Facebook fans is often a combination of organic consumer interest and promotional brand incentives. For example, Tide's ranking as 36th among all brands—four times higher than other cleaning companies—has been attributed to a valuable coupon offered by the brand, which caused a spike in fan momentum.
While the RQI is very new, Facebook's increasing importance to the success of a brand may elevate it to a common means of brand measurement with companies seriously competing for the favor of fans.
To take advantage of the latest social media tools, contact MDG.
Our core capabilities include print advertising, branding, logo design, creative, digital marketing, media planning and buying, TV and radio advertising, customer relationship management, inbound marketing programs, public relations, Web design and development, email marketing, social media marketing, infographic design, and SEO. View MDG's creative marketing portfolio.
Read more at Adage.com