The CIA Accomplishes Its Mission of Joining Twitter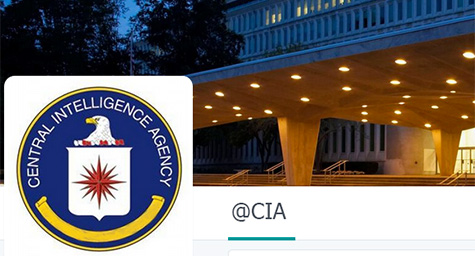 The CIA is no longer MIA from social media. On 1:49 p.m. EST last Friday, the Central Intelligence Agency (CIA) used their signature secrecy to creatively disclose their arrival on Twitter. Their simple statement, "We can neither confirm nor deny that this is our first tweet," said it all without saying too much and word that the agency was spotted on social media quickly spread through the Web. In only two hours, their statement was retweeted more than 85,000 times and more than 105,000 followers linked up to their @CIA handle. CNN.com disclosed more of the details to explain why the intelligence agency deemed it a smart move to join Twitter.
The CIA's witty debut on Twitter may have led to an outbreak of jokes and jabs on the Internet, but their arrival on social media is no laughing matter. It is all part of their strategy to lift the veil of secrecy that has shrouded the agency for decades and position the organization in a more positive light. By securing a stronger social presence, the agency can grant Americans more access to the important insights and unclassified information it has to share.
By joining social media sites like Twitter last week and Facebook the prior week, the agency is expanding its previously restricted online presence well past its public website, YouTube, and Flickr accounts.
"By expanding to these platforms, CIA will be able to more directly engage with the public and provide information on CIA's mission, history, and other developments," said CIA Director John Brennan.
The agency is planning to use its social media accounts to help the public uncover more about the agency. It is promising to post the latest news, statements, and career information from the CIA, as well as historical highlights from the CIA's museum and a range of unclassified intelligence information.
Deploying itself on social media is a major move for the notoriously secretive agency, but it's long overdue since other high-profile national organizations have been on social media networks for years. The State Department joined in 2007, followed by the FBI in 2008, and The National Security Agency in 2009. With the arrival of the CIA on social media, the agency can shed their covert status and keep the public informed on a need-to-know basis.
Stay current and connected on social media. Contact MDG.
MDG is a full-service advertising agency and one of Florida's top branding firms. With offices in Boca Raton and New York City, MDG's core capabilities include creative, branding, logo design, print advertising, digital marketing, mobile marketing, email marketing, media planning and buying, radio and TV advertising, outdoor advertising, newspaper, video advertising, Web design and development, content marketing, lead generation, mobile marketing, social media marketing, and SEO. To discover the latest trends in branding and advertising, contact MDG.