The Content Marketing Formula: 70/20/10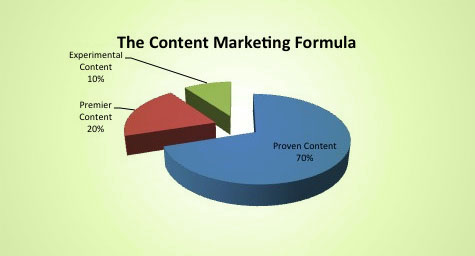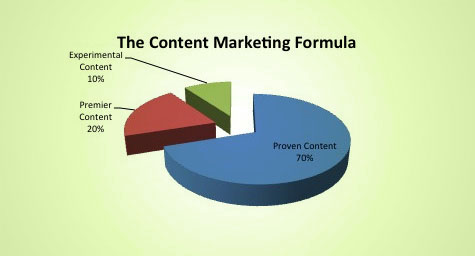 Content marketing can be a tricky thing since it's often difficult to balance quality with quantity and originality with reliability. Many content marketers have found that establishing an editorial calendar and using a content structure of 70/20/10 can deliver the most readers and results. Fortunately, these proven percentages allow for a solid and engaging mix of content and can easily be adopted by any business or industry. To help content marketers get on the right track, SocialMediaToday.com offered the following guidelines for developing a content calendar that gets people buzzing, sharing, and coming back for more.
Strive for 70 Percent Tried-and-True Content
Craft most of the content to meet the common interests of current readers to help build a loyal following and establish the brand in the industry. Create high-quality original content and use authoritative outside sources to maximize shareability and boost the company's credibility about specific subjects.
Aim for 20 Percent In-Depth Content
Occasionally, it's worthwhile to develop more detailed content that draws deeper engagement, leads readers further into the sales funnel, and provides a better understanding of the brand's overall vision. These pieces are based on the tried-and-true content, but provide richer analyses of the trends and topics of the times. These include eBooks, webinars, and white papers on best practices, as well as insight from industry experts and attention-grabbing features like infographics. They take more time to research and develop, but they only need to be done on an occasional basis and can yield an abundance of buzz and credibility.
Try for 10 Percent Experimental Content
Get creative and test content that's completely new and different. Fresh, unexpected content will intrigue current audiences, which is likely to help build buzz and attract new readers. Trying out new topics and tactics will also keep writers fresh and sharp while possibly opening doors to new approaches that pay off.
Try following these general guidelines when developing a content calendar and see how they provide the perfect mix of marketing that makes an impact.
To learn more about incorporating content marketing into your digital marketing strategy, contact MDG.
MDG, a full-service advertising agency with offices in Boca Raton and New York City, is one of Florida's top content marketing agencies. Our 360° integrated marketing strategies use just the right mix of traditional and digital advertising to reach your goals. Our core capabilities include branding, logo design, creative, online marketing, print advertising, media planning and buying, TV and radio, Web design and development, email marketing, mobile marketing, content marketing, blog writing, social media marketing, and SEO. While some industries may fare better in print and others online, we strive to create a balanced approach, where traditional, digital, and social media marketing efforts support each other and your message is tailored to the medium. To stay on top of the latest content marketing trends, contact MDG.
Read more at SocialMediaToday.