The Digital Diagnosis [Infographic]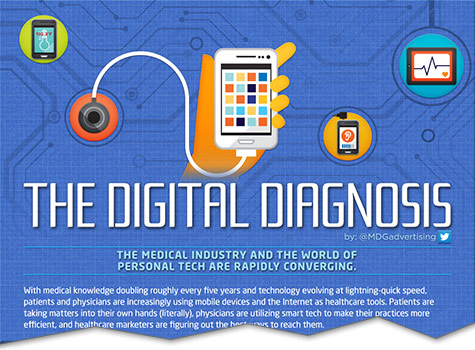 The digital age is redefining healthcare and many factors are driving this medical revolution. First, the Web has placed a world of healthcare information, medical resources, and personal support at patients' fingertips, making it easier than ever to gain knowledge and insight. Secondly, the popularity of mobile devices has made more and more patients tech-savvy and they favor the convenience of digital access to healthcare that mobile devices and digital technology provide. In addition, the growing number of online healthcare forums offers patients places to connect with others facing similar conditions. Finally, medical providers and marketers are catching on to the digital healthcare trend and realizing the need to update their websites, launch social media pages, and participate online to meet the needs of patients, make their practices more efficient, and stay competitive.
[jump]
MDG's latest infographic illustrates how patients are becoming more empowered in their healthcare decisions and how physicians and healthcare marketers are evolving with this digital direction.
The infographic shows that patients are now much more digitally active in their healthcare. Research reveals that 72 percent of U.S. adults have gone online to seek healthcare information in the last year, while one-third have searched the Web to figure out certain medical issues. The graphic shows that women are more inclined to seek health answers online and that more than 55 percent of medical Web searches are about specific diseases, 43 percent are related to medical treatments, and that weight loss and health insurance each account for one-quarter of Web inquiries. It also points out that patients are coming together on social media sites to form communities for sharing their experiences, resources, and research. As a result, 40 percent of patients have posted comments about personal health experiences and 30 percent have consulted online reviews of healthcare services.
The graphic looks at how doctors are dealing with this digital dynamic, showing that physicians now go online for 9 to 15 hours each week for professional reasons and that many have discovered the value of apps as medical resources for both patients and providers. As a result, doctors are increasingly recommending healthcare apps to patients since many advanced apps can actually conduct various medical screenings and track personal health conditions.
The infographic projects that mobile devices will be driving even greater benefits and breakthroughs as healthcare digitally evolves. Over the next 25 years, the use of mobile devices and remote medical technology could save $197 billion in U.S. medical costs. The graphic also reveals how Watson, IBM's specially developed supercomputer, is now being sent to major U.S. hospitals and clinics to provide fast answers to detailed medical questions. This supercomputer can rapidly sort through millions of records and research studies to offer medical answers.
Finally, the infographic addresses healthcare marketing, which has recently seen its traditional strategies turned upside-down as digital technology forces the re-thinking of the way medical products and services are marketed today. It features some smart suggestions, such as shifting a higher percentage of budgets to mobile, as well as developing digital advertising and apps, and building the healthcare brand's social media presence in order to reach the healthcare consumers of today and tomorrow. Take a look at MDG's informative healthcare infographic below.

Spread the Word
While some industries may fare better in print and others online, we strive to create a balanced approach, where traditional, social media, and digital marketing efforts support each other and your message is tailored to the medium. To learn more about the latest trends in healthcare marketing and advertising, contact MDG today at 561-338-7797 or visit www.mdgsolutions.com.