The Facts and Figures on How Data Crunchers Influenced the Presidential Election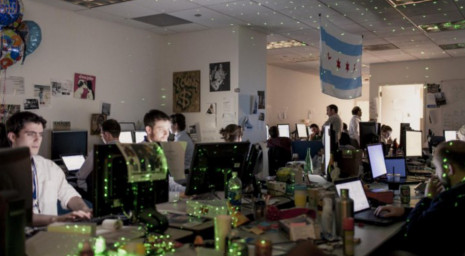 With the rise of our digital culture, digital marketers now have access to an advanced array of data analysis software that they regularly rely on to measure the effectiveness of their digital marketing campaigns. This year, marketers weren't the only ones using such sophisticated software, as similar data-mining programs were also used by the presidential campaigns. For the 2012 election, the candidates turned to this software to gauge the political preferences and profiles of key supporters, prime demographics, and potential contributors. Time.com offered an exclusive look at how data may have determined the election.
"We are going to measure every single thing in this campaign," said Obama's campaign manager Jim Messina after accepting the position. He set his sights on running an unprecedented, metric-driven campaign that focused more on solid data than on vague political sentiment. He quickly expanded the campaign's analytics department five-fold from 2008, and then hired an official scientist with extensive experience analyzing data to increase the efficiency of consumer promotions. The activities of this data department were kept confidential and code names were assigned to each of their data-mining efforts. This team worked in a private, separate area that was far away from the other staffers. The reason behind this secrecy was that the Obama campaign viewed its carefully collected data to be their greatest advantage over Mitt Romney.
Once the election was over, it was revealed that Obama's data-crunching department actually developed complex models of swing-state voters that could be used to maximize the effectiveness of every aspect of the campaign, from promotional mailings and social media to digital marketing efforts. Their efforts also redefined the practice of tightly targeting TV spots. Most importantly, their tech-savvy digital marketing strategies helped the campaign raise $1 billion.
While the Obama campaign also employed data analytics during the 2008 election, they faced the problem of too many databases with too little alignment to actually yield effective results. Midway through the 2008 election, they realized that the only resolution was to start fresh, which led to the development of a single system able to merge the primary Democratic voter files in the swing states with all of the data collected from individual field workers, fundraisers, consumer databases, mobile contacts, and social media platforms.
This approach was radically different from previous efforts focused on simply gaining voters' attention because this new strategy enabled data crunchers to run tests that could actually predict the types of people likely to be persuaded by certain kinds of appeals. The data driving this newfound power of prediction became the campaign's most valuable asset.
"We could [predict] people who were going to give online. We could model people who were going to give through mail. We could model volunteers," explained a senior adviser about the predictive profiles developed during Obama's 2008 campaign. "In the end, modeling became something way bigger for us in '12 than in '08 because it made our time more efficient."
By 2012, Obama's campaign was ready to employ this predictive data once again, yet this time with an emphasis on raising money. Using advanced data collection and analysis software to develop detailed predictive profiles, they ran numerous tests to determine the most effective and lucrative email appeals. Interestingly, the best-performing approaches raised 10 times more money than the least effective ones.
The campaign also directed its data-analysis capabilities toward predicting voter turnout. Their data-crunchers used four separate streams of polling data to construct a comprehensive picture of voters in key states. This allowed them to gauge potential voter behavior throughout the campaign and alter their approaches accordingly.
While the Obama campaign earned praise for leveraging social media during the 2008 election, their online effort for 2012 was much more methodical. They expanded their get-out-the-vote initiative to Facebook on a mass scale to virtually duplicate the door-knocking agenda of field workers. They also sent messages to the people who had downloaded a particular app that urged them to encourage their friends in key states to get registered to vote or to vote early. This approach was surprisingly successful, with one in five people contacted by a Facebook friend responding to their voting request because it came from a personal source.
Of course, their predictive data was also used in ad placement decisions. The campaign used intricate modeling to discover the best ways to reach target voters in every medium, which maximized their efficiency and effectiveness.
With the election over, it's clear that data was a primary driver throughout the 2012 presidential campaign. With the growing acceptance of the predictive power of data and the development of more advanced analytical software each day, it appears that data has redefined the way we approach campaigning and completely changed the political game. 
To learn more about leveraging data mining in your digital marketing strategy, contact MDG today at 561-338-7797, or visit www.mdgsolutions.com.
MDG, a full-service traditional and digital marketing agency with offices in Boca Raton and New York, NY, specializes in developing targeted Internet marketing solutions, exceptional creative executions and solid branding and media buying strategies that give clients a competitive advantage. Our core capabilities include branding, logo design, creative, digital marketing, print advertising, direct mail marketing, media planning and buying, TV and radio, website design and development, email marketing, mobile marketing, social media marketing, and SEO.
read more at Time.com.