The Favorite Retailers, Musicians, and TV Shows of CPG Consumers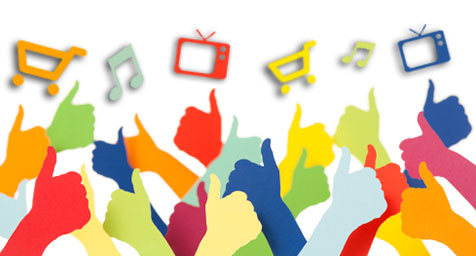 The top 10 most-Liked retailers on Facebook by CPG consumers are all big box retailers, according to a recent study by ePrize. The report was based on data from 18 CPG campaigns that ran on Facebook, which produced data on the Likes of 52,697 unique users. The analysis found Target is the retailer most liked by both male and female consumers in every age group except those under 18 (for whom #1 is Walmart and #2 is Target).
Three of men's top six most-Liked retailers are electronics stores (Best Buy, Fry's Electronics and h.h. gregg). Best Buy ranks #7 for women, but overall mass retailers and department stores, such as Kohl's and Macy's, dominate their top 10.
When it comes to the musicians most Liked on Facebook, Taylor Swift dominates the category—ranking #1 overall and appearing on the top 10 lists of both men and women.
Men have a taste for classic and hard rock, with The Beatles (#2), AC/DC (#5), and Metallica (#7) making their top 10. Women tend to Like a wide variety of current pop artists, including Maroon 5 (#2), Adele (#3), and Carrie Underwood (#8).
When it comes to TV shows, cartoons make up five of men's top 10 most-Liked shows (Family Guy, The Simpsons, South Park, SpongeBob SquarePants, and Futurama). Women, on the other hand, Like the Ellen DeGeneres Show the most.
The differences in what men and women Like on Facebook is a good reminder to keep demographics in mind when appealing to CPG consumers. An ad featuring Eminem may not connect with women, and a social media post about American Idol could fall flat with men. On the other hand, a campaign featuring Taylor Swift may appeal to everyone.
Stay up-to-date with the latest in consumer trends and preferences. Contact MDG today at 561-338-7797 or visit www.mdgsolutions.com.
MDG, with offices in Boca Raton and New York, NY, is a full-service advertising agency and one of Florida's top creative ad agencies. MDG's core capabilities include print advertising, branding, logo design, creative, digital marketing, creative media planning and buying, radio and TV advertising, Web design and development, content marketing, email marketing, social media marketing, and SEO. For the latest on social media marketing trends, contact MDG today at 561-338-7797, or visit www.mdgsolutions.com. To learn more about the power and potential of Facebook Likes, see "Lower Hospital Death Rates Linked to Facebook 'Likes'."