News Ranks High in Mobile Activity on Tablets and Smartphones: The Future of Mobile News [Infographic]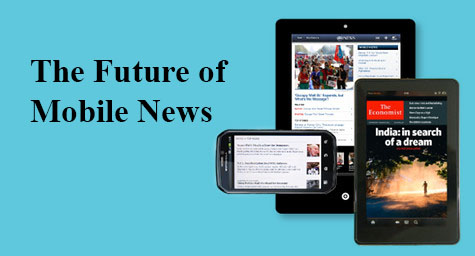 Mobile has redefined our lives and tablets have taken the lead in driving this evolution. This insight was based on a recent study by Pew Research Center's Project for Excellence in Journalism in collaboration with The Economists Group. The data revealed that nearly 70 percent of tablet owners used their digital devices every day, which is only slightly down from the 77 percent of daily usage in 2011. Despite that minor decline, the amount of time spent on tablets each day rose to an average of one hour and 49 minutes, which is 10 minutes more per day than last year. This is only a small sampling of the findings revealed in the study. Journalism.org featured additional results and an interesting infographic on how the explosive growth of tablets and smartphones has kept building momentum for mobile activity.
The study also showed that iPad owners used their devices more often than Android owners, with more than half of iPad owners using their tablets numerous times each day in comparison to only one-third of Android owners exhibiting this multiple daily usage. Some attributed this skew to the superior capabilities and battery life of the iPad and expected this difference to decline over time as other tablet makers catch up with iPad's outstanding technology.
[jump]
The top activity among mobile owners was reading or sending emails. In fact, 65 percent of tablet owners and 80 percent of smartphone owners used their devices for email at least weekly, while 44 percent of tablet users and 61 percent of smartphone accessed their email via mobile every day.
News was the next most frequent mobile activity with 37 percent of tablet owners reading news daily on their tablets and 64 percent getting their news at least weekly on their digital devices. The numbers were almost identical for smartphone owners.
More than half of both tablet and smartphone used their mobile devices to play games and access their social networks on a weekly basis. While smartphones were used more than tablets for social networking, tablets were used more frequently for reading, watching movies, and shopping.
The study also noted that Android owners were less likely than iPad owners to use their tablets for various other activities on a daily basis, including email and social networking. This demonstrated iPad's tremendous popularity and how the digital device has transformed tablets from trend to everyday essential.

To learn more about the power of mobile marketing, contact MDG today at 561-338-7797 or visit www.mdgsolutions.com.
MDG is a full-service advertising firm and one of Florida's premier digital marketing companies, with offices in Boca Raton and New York, NY. MDG's 360° marketing approach uses just the right mix of traditional and online media to reach your marketing goals. While some industries may fare better in print and others online, we strive to create a balanced approach where traditional and digital marketing efforts support each other and your marketing message is tailored to the medium. To stay on top of the latest trends in mobile marketing, contact MDG today at 561-338-7797 or visit www.mdgsolutions.com.
Read more at Journalism.org.