The Future of Mobile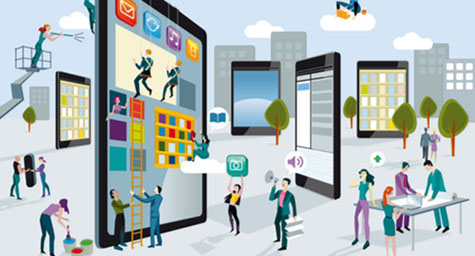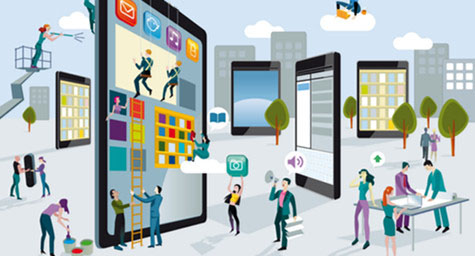 The significant and steady growth of mobile usage among consumers over the last year has led experts to forecast that the future of media is mobile. This prediction was strongly supported by comScore's 2013 Mobile Future in Focus report, which analyzed the mobile and connected device landscape and trends in the U.S. in 2012. This authoritative report explained that the rapid rate of mobile adoption, along with the ongoing stream of innovation in mobile hardware, software, and device functionality, has set the course for mobile to dominate the marketplace. MediaPost.com detailed how mobile is ushering in a new digital dimension.
The report featured a number of key insights regarding mobile usage and growth. First, more than 125 million U.S. consumers now own smartphones and more than 50 million Americans have tablets. In 2012, the U.S. smartphone market exceeded 50 percent market penetration, with the number of mobile subscribers jumping almost 30 percent since last year, and a whopping 99 percent from two years ago.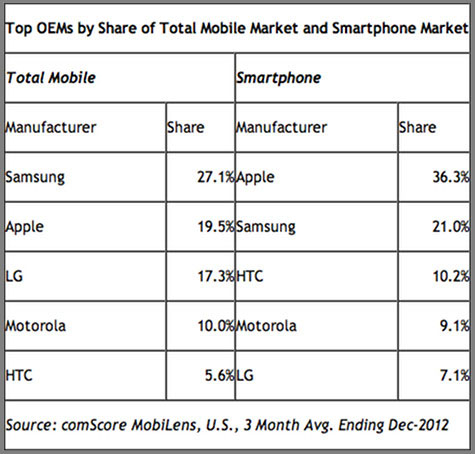 In addition, Apple's iOS and Google's Android operating system are dominating the U.S. smartphone arena with a total of almost 90 percent of the market. While Apple continues to gain ground as the leading smartphone OEM, the greatest growth has been seen by Samsung in recent years. In fact, Samsung has experienced a year-over-year increase of more than 100 percent and a two-year increase of more than 400 percent. Apple currently maintains a strong lead over Samsung, but that gap has been closing.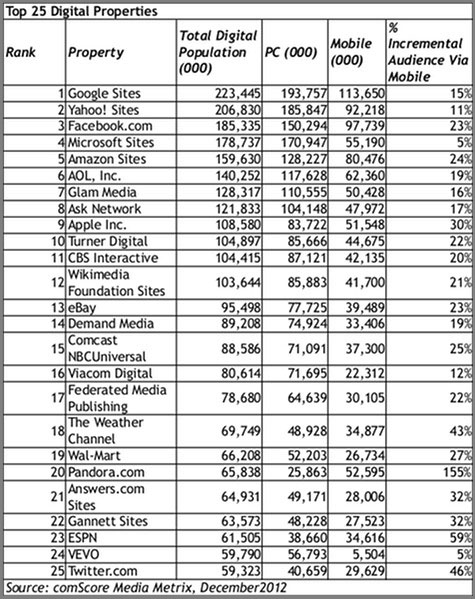 Interestingly, consumers have consistently displayed a preference for accessing content on smartphones through mobile apps versus mobile websites. Since space on smartphone home-screens is very limited, consumers have opted to add the apps of major media brands. As a result, the top smartphone apps of 2012 belonged to major media brands. The Facebook app took the top position, followed by five different Google apps.
On a related note, the growing frequency of consumers using smartphones to guide in-store purchases has forced the retail industry to make major changes. Brick-and-mortar stores have felt pressure to price their products as competitively as online retailers, despite the fact that physical locations have much higher operating costs. There's no denying that online shopping has posed a significant threat to traditional stores, yet most surprising was the fact that e-commerce has grown four times as fast as traditional retail while accounting for one out of every 10 retail dollars.
With the ubiquity of high-speed Internet access, the user's media consumption experience has been greatly improved, which has led to a rapid rise in mobile media usage. In addition, default Wi-Fi accessibility for mobile devices has also contributed to a richer in-home browsing experience and ultimately more time spent online.
To learn more about the future of mobile and the power of mobile marketing, contact MDG.
MDG is a full-service advertising agency and one of Florida's top digital marketing companies. With offices in Boca Raton, FL and New York, NY, MDG specializes in developing integrated 360° marketing solutions that give clients a competitive advantage. Our core capabilities include branding, logo design, digital marketing, print advertising, mobile marketing, email marketing, media planning and buying, TV and radio, online video, website design and development, content marketing, social media marketing, and search engine optimization (SEO). To stay on top of the latest trends in marketing and advertising, contact MDG.
Read more at MediaPost.